Wilfried Zaha can go right to the very top after the winger fired them to the Championship play-off final.
Zaha, who joins Manchester United this summer, scored twice as Palace beat Brighton 2-0 to set up a Wembley date with Watford on Monday, 27 May.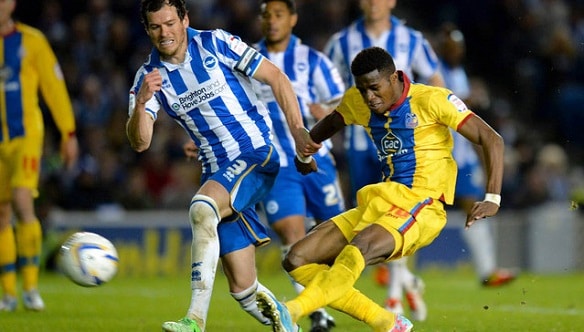 Crystal Palace manager, Ian Holloway said: "He's a genius, he's a wonderful boy and he cares about Crystal Palace.
"He was the difference. I believe he will be a world-class player."
Wilfried Zaha had only scored once since his move to Manchester United was confirmed in January and had not scored an away goal since October. Despite his undoubted ability, England international Zaha, 20, did not win any of the end of season player awards at Crystal Palace and Holloway said: "How can he not win a trophy? So we all clubbed together and bought him one."
Holloway left Blackpool to take the Palace job in November with the London club fourth in the table.
The Eagles looked candidates for automatic promotion until a late-season collapse and Zaha, who has only scored once since his move to Manchester United was confirmed in January, had been "getting some stick recently", according to Holloway, who added he was "delighted" the winger had bagged a brace.
Palace endured a run of nine games without a win, which almost cost them a play-off place, and Holloway said the club had come through its "toughest test".
He continued: "Now I think we're feeling much better about ourselves. It's difficult when you come into a club and everything's rosy, I'm not used to it.
"Every one of them burst their heart tonight. They were brave. A couple of weeks ago they didn't feel like that because things weren't going for us. We'd lost our 30-goal talisman [Glenn Murray], everyone wrote us off but you can't do that. If Brighton scored first I don't think I'd be here now doing the winning interview."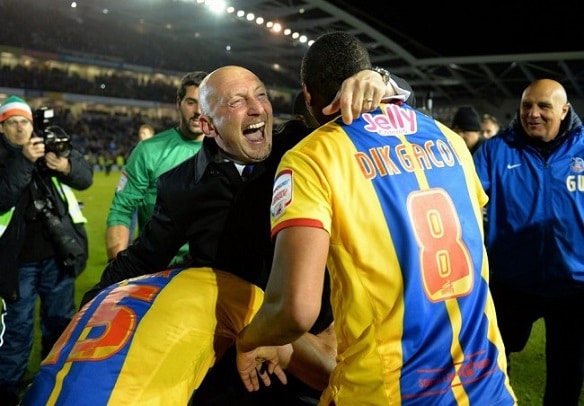 Here's an interesting fact – The only Championship play-off final in the last four years not involving Ian Holloway was in 2011, when Blackpool were in the Premier League having won the previous final.
Holloway has recently been furious with suggestions that his players had lost faith with him during their difficult spell.
"People had said that I'd lost the dressing room but I know where it is, down the corridor on the left," he said. "What a load of rubbish. How many others teams have had wobbles? It's a joke.
"I don't need to motivate myself. I know what I'm doing. Taking over a different style takes a while. Brighton boss, Gus Poyet, had three years to build their style.
"I'm delighted for my club, it feels like my club now. I was on a loser all along but now I'm the winner because these guys are awesome."
Holloway will now have been involved in three of the last four Championship play-off finals, having won in 2010 and lost last year, both with Blackpool.
"I've been there but my players haven't," he said. "I can bring calmness to a situation. I didn't used to have patience. I'm bursting with pride. We have two weeks to get ready for a wonderful occasion."
by Terence Johns