Barcelona midfielder Xavi insists he did not mean to cause offence with his recent comments about Cesc Fabregas and described the whole controversy as "absurd".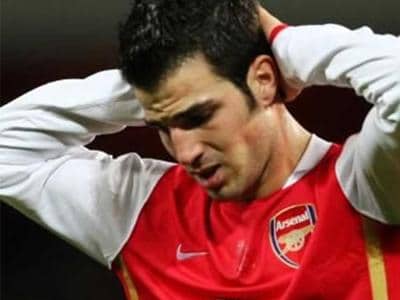 Xavi last week claimed Arsenal captain Fabregas had told him he was "suffering" because of his desire to join the Catalan club.
Provoked Arsenal manager Arsene Wenger, who accused Xavi of being disrespectful, but the Spain international insists he did not mean to upset anyone and felt he was acting in the best interests of Fabregas and Barcelona.
"I'm sorry. My intention was not to offend Arsenal and Wenger," Xavi said at a press conference.
"We know that Cesc has this desire to come and I said that he was suffering. But I don't want to offend either Wenger or Arsenal. I was only looking out for the interests of Cesc and Barca.
"The controversy seems absurd to me. I don't want to get into a war of words with Wenger."
Barca has long been linked with its former youth product Fabregas and saw its efforts to sign the Gunners skipper rebuffed last summer.
The European champion has resumed its bid this summer and Barca coach Pep Guardiola has revealed that Arsenal had agreed to negotiate for the 24-year-old.
Xavi said, "It seems this year they are more disposed to sell than in previous years and therefore you need to be more optimistic, but everything depends on an agreement because, obviously, he is an Arsenal player and he has a contract."
Buford Balony says:  Barca must be so desperate to sign Cesc, with all their players gobbing off. I say wait for a big improvement in the offer Arsene, because it's coming.