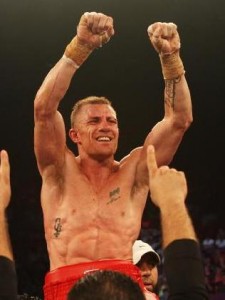 Garth Wood took Anthony Mundine on a trip down memory lane on the eve of their middleweight bout as he reminded the two-time world champion of his one and only career knockout "that day in Germany."
The day was December 1, 2001, when German Sven Ottke floored Mundine with a blow to the side of his head in the 10th round of their IBF super middleweight title fight.
Wood, a former South Sydney NRL fullback who tipped the scales at 73kg at Tuesday's weigh-in, didn't have much to say to Mundine except to remind him of his most demoralising loss and to insinuate he could suffer the same fate on Wednesday.
"I feel awesome. Strong, focused," Wood said.
"Just one more thing. Remember that day in Germany with Ottke?
"That's all I'm saying.
"If anyone wants to be tested on the chin, the facts are there.
"The facts are there brother, that's all I'm saying."
The middleweight fight at Sydney's Acer Arena on Wednesday will be the lightest Wood has ever boxed at, having won The Contender television series at super middleweight level.
The far more experienced Mundine, having contested 43 fights to Wood's 11, wasn't the slightest bit phased by his opponent's comments, saying if anyone was to hit the canvas it would be Wood.
"Many have come, many have tried," the 35-year-old Mundine said of Wood's claim.
"I was a young kid just like he is, in my 10th fight.
"So he's in the deep water this time, I'm not.
"I'm just going to prove it again, I'm the best, I'm on a different level."
'The Man', full of his usual bravado, after weighing in a fraction lighter at 72.9kg, said he's "expecting everything", but more than anything he's expecting a dirty fight.
"Everybody knows I can box everybody knows that I can fight, but I may have to bring an extra kit tomorrow. I may have to bring my wrestling kit.
"Because he's no boxer, he's no fighter, he's a wrestler.
"He's not pretty to watch, I like to give the fans a show and that's what I intend to do."