A witness has claimed that former South Africa rugby player Solly Tyibilika, who was shot dead at a Cape Town bar, was deliberately targeted for execution.
The unnamed patron told a local news site that he was ordered aside by one of the two gunmen before the pair opened fire on Tyibilika, 32, who was sitting behind him. Another patron was wounded in the shooting.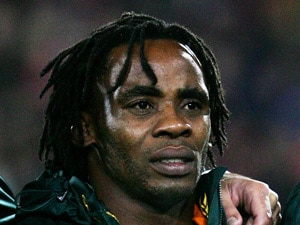 "This was not a robbery because they left all the other patrons alive and killed him," the witness said. "There was no conversation – they just shot him. And Solly clearly didn't expect it because he didn't show any sign of fear while sitting there."
The witness' claims appeared to contradict earlier reports that the gunmen began shooting randomly after entering the bar.
The killers remain at large after fleeing in different directions.
Tyibilika's death came barely a few weeks after his friend Simon Shumane, with whom the rugby star was arrested recently on a firearms charge, was fatally gunned down in an apparent gangland-style hit.
A police spokesperson refused to discuss whether Tyibilika was targeted for killing, only confirming that "two patrons were wounded, and one of them, in his early 30s, died on the scene."
South African Rugby Union (SARU) announced the death of the former Springbok loose-forward, who played eight Test matches for South Africa between 2004 and 2006.
"Solly was a trailblazer among black African Springboks and … to lose him so suddenly and in this brutal manner is very distressing," SARU president Oregan Hoskins said in a statement.
"The casual disregard for life in our society is shocking."
by Buford Balony