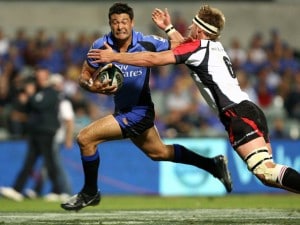 26-year-old Cameron Shepherd is full of praise for new Western Force head coach Richard Graham and his assistants, but in particular Charlie Higgins, the new strength and conditioning coach.
Shepherd said Western Force's pre-season training had been ruthless and tough, but results were already showing.
"Speaking from my own experience, it's been really refreshing," Shepherd said.
"We've had a pretty good line-up of coaching staff over the years, but this is definitely the best I've seen at the Force.
"Charlie in particular has been outstanding, arguably the best trainer I've ever had. He cares for the boys, offers great feedback but also expects you to work hard.
"The boys have had some pretty tough sessions under him, but you always know if you put in everything you'll get the reward."
The squad has been pushed extra-hard aerobically, with players expected to maintain a high heart rate during sessions that are sometimes monitored by GPS.
Shepherd said the players were getting through the pain barriers.
"The sessions are all about going as hard as you can and make sure your heart rate is as high as it can be," he said. "It's definitely the fittest Force side I've seen to date."
Shepherd is relishing the pre-season work, being injury-free for the first time in nearly three years.
His bad run stretches back to April 2007, when he damaged his left knee in round 11 of the Super 14 season.
He managed to fight his way back into the Wallabies World Cup squad, but in his first touch of the ball in a Test against France he broke his left fibula in eight places and partly dislocated the ankle.
He made a stunning comeback in round three of the 2009 Super 14 season with three tries against the Brumbies in Canberra, but suffered another setback tearing the cartilage in the left knee eight games later against the Bulls in Pretoria. He has had four operations on the ankle and further surgery on the knee. Now he's hoping that is all behind him.
"I really feel like I worked hard before this pre-season to get my body in shape," he said.
"And the body is feeling fantastic and strength-wise, it's the strongest in my legs I've ever been. Mentally it's just refreshing to be part of the main group. Anyone will tell you if you're part of a rehab program for a long time you feel the isolation. So I've enjoyed being back with the main group."