West Ham United are the favourites to be chosen over Barclays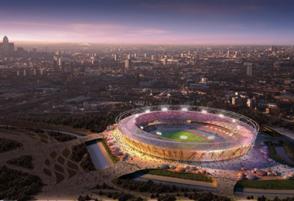 Premier League rivals Tottenham Hotspur to take over London's main Olympic stadium after the 2012 Games.
An announcement is expected on Friday after a vote by the Olympic Park Legacy Company, after months of deliberating over what to do with the $855 million venue.
West Ham want to move from their current base at Upton Park and have proposed to retain the Olympic running track after the Games, while downsizing from 80,000 to a 60,000-capacity stadium.
Tottenham manager Harry Redknapp has been a staunch critic of having a running track at an elite football venue, and his club's bid, alongside American sports and entertainment giant AEG, plans to replace the Olympic stadium with a purpose-built 60,000-seat football stadium.
West Ham's bid will have appealed because London Olympic leaders promised to keep an athletics legacy at the stadium when they made their successful bid to the International Olympic Committee in 2005.
The other alternative, although unlikely, is that the OPLC board could opt to convert the facility to a 25,000-seat athletics stadium and reject both West Ham and Tottenham's bid.
West Ham vice chairman Karren Brady claimed this week that Tottenham's plan to tear down the stadium would be a "corporate crime."
But with West Ham's Premier League status looking increasingly fragile, some argue that their bid isn't economically viable in the long term.
Buford Balony says: Why do Spurs want to move out of North London? It is because they concede Arsenal are a far superior club that they can't compete with. If I was them I would give North London to Arsenal as well.