Wayne Rooney has apologised to a nine-year-old Manchester United supporter after the striker accidentally broke the boy's wrist with a stray shot before his side's 5-0 win at Wolverhampton Wanderers.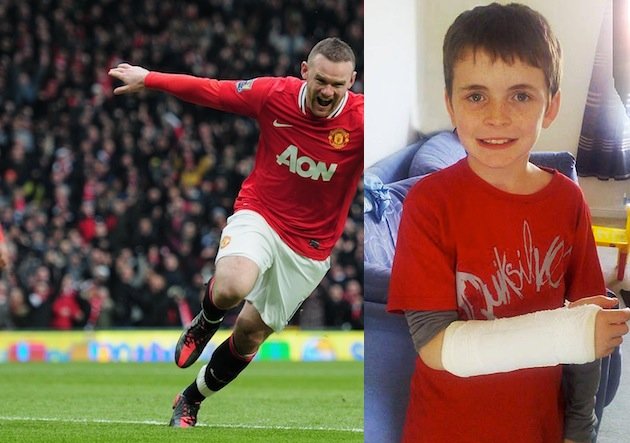 Rooney was taking shots at goal during the pre-match warm-up and one wild effort from the United star flew into the crowd and struck Jamie Thomas on the wrist as he tried to block the ball.
Thomas managed to watch the first half of the Barclays Premier League match, but was taken into the first aid tent after his arm "ballooned" at half-time.
Medics then sent the youngster to hospital where he had a plaster cast put on his injured wrist.
Rooney was not aware of the incident at the time, but he used his Twitter page to say sorry to the schoolboy and promised to send him a personalised gift.
He said in a tweet: "I want to apologise to Jamie Thomas. I have arranged for a letter and a signed shirt to be sent to his home address."
Thomas was watching his United heroes for the first time and his father, Andy, said: "It shook him up a bit but he's fine about it now and I don't think it's put him off going to other games.
"I don't think Rooney realised what he had done, otherwise I am sure he would have come over."
by Buford Balony