The Warriors arrived in Sydney on Wednesday conceding they "haven't got much hope" in the NRL grand final against Manly unless they can reproduce their near flawless performance against Melbourne Storm.
The Auckland-based side touched down late on Wednesday afternoon before being mobbed by excited supporters at Sydney Airport who cheered loudly as their heroes emerged at the arrivals hall.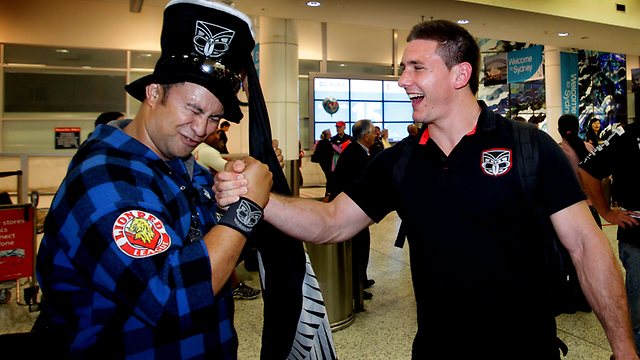 With boom boxes blaring the team song, and dance moves to match, fans posed for photos and grabbed autographs as Ivan Cleary and his players began preparations for Sunday's ANZ Stadium decider.
Relaxed coach Cleary appeared happy with the underdog tag but warned his players risked embarrassment if they couldn't come up with the uncharacteristic control that stunned Melbourne at AAMI Park.
"It's pretty obvious who the underdog is and Manly deserve to be favourites," Cleary said.
"They've been right at the top, they've been one of the best sides all year and go into this game in great form and with a lot of experience in these big games, so we understand what we're up against.
"Our focus is just on delivering our best possible performance because if we don't deliver that we haven't got much hope."
The Warriors face a daunting few days of public appearances beginning with Thursday's traditional grand final breakfast, but were adamant their arduous travel schedule was now "routine".
"We're definitely in a routine, we've travelled five out of the last six games now so we've got that sort of down pat," Cleary said.
"You definitely enjoy the build-up, it's a privilege to be involved.
"But at the same time you've got to basically keep your routine and try and go through the same preparation you would go through every week."
Cleary is confident his forwards can muscle up in the same way that kept minor premiers Melbourne hemmed in their own territory for most of the second half in the preliminary final.
"They understand their role," he said.
"We're in our 28th game of the year so we understand how to prepare well physically and mentally.
"Those guys have been some of our most consistent players all year so if anyone can repeat it I guess it's those guys."
Captain Simon Mannering said his side arrived with the belief they could win the club's first premiership after upset finals victories over Wests Tigers and the Storm.
"There's got to be belief if you want to win it, you've got to have self belief that you can do a job on the football field and we'll definitely have that on Sunday," he said.
So will their supporters, many of whom will be Kiwi expats and traditional Manly-haters in Sydney.
That could even mean the usually unflappable Cleary, who admitted he turned to 2012 boss Phil Gould for advice this week, getting emotional.
"I'm really excited," he said.
"I'm absolutely excited.
" … I'm smelling the roses."
by Buford Balony