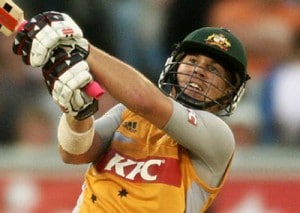 David Warner is so dismayed after once again missing a spot in the New South Wales Sheffield Shield team that he is considering leaving the state when his Blues contract finishes at the end of 2012.
Warner, who almost moved to Victoria in 2009, says he will "consider his options" if he continues to be overlooked for the four-day domestic competition.
"They just haven't given me a look-in," he said of the Blues selectors.
"I haven't done anything wrong.
"I've scored 200, 100 and 100 (for Eastern Suburbs in Sydney grade cricket) and for some reason there is two available spots there this week and they still haven't picked me.
"I want to play Test cricket and I'm not going to get that opportunity playing in the second XI."
Buford Balony says: Give him a go as he is the future of Aussie cricket, not like the old bums we have now.