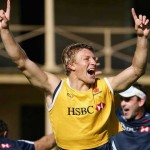 Lachie Turner capped off an "incredible" couple of weeks by winning the Gatorade Bolt 100m sprint of the footy codes at Sydney Olympic Park.
Test winger Turner (11.10sec) just held out his Eastwood rugby clubmate John Grant (11.15s) and Parramatta's rugby league superstar fullback Jarryd Hayne (11.20s) in a thrilling three-man battle for the $20,000 first prize.
Melbourne Storm giant Greg Inglis finished last.
It was an exciting end to a day which was earlier crowded by controversy when the two AFL representatives, Carlton's Kade Simpson and Essendon's Courtenay Dempsey, were withdrawn from the event for contractual reasons.
With the AFL sponsored by a rival drinks company to Gatorade, the two
midfielders were unable to compete in the eight-man event.
Victory in a personal best time continued Turner's dream run of the last two weeks.
On the outer of the Wallabies for most of the season, he made a successful return to Test rugby against New Zealand last weekend, when he won the player's player of the match award.
The ride for the Waratahs speedster will continue over the next few weeks when he represents Australia in the Commonwealth Games sevens rugby tournament in Delhi.
Turner revealed he had profited from advice from the world's fastest man, Usain Bolt, who earlier in the evening anchored a team of competition winners to victory in a 4x100m celebrity relay.
"One that really helped me was he said 'don't look at the guys around you, just keep going and stay relaxed as you get over that line'," Turner said.