Gold Coast Titans' crippled financial state descended further into the abyss on Thursday after a team of NRL accountants unearthed millions of dollars of hidden debt in the embattled football club.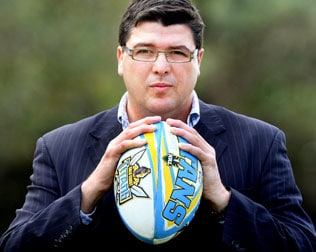 While Titans boss Michael Searle has long been adamant the club's difficulties are confined to the its property arm and its Centre of Excellence, NRL chief executive David Gallop said an audit this week had shown all aspects of the business were under "considerable financial stress" with the total debt estimated at $35 million.
It comes amid an increasing belief that Storm halfback Cooper Cronk has already signed a three-year deal with the Titans, despite deep concerns about the club's future.
While Gallop couldn't guarantee the Titans' current playing roster would all be paid, he said he was confident contract payments would be met.
"We have received reports from our external accountants today that confirm the whole structure at the Titans is under considerable financial stress," Gallop said. "We are working through the options around that but there needs to be an acceptance that the various arms of the group's business are intertwined in terms of the level of debt and that will have ramifications as future options are explored."
It is understood the external accountants discovered the football club was in millions of dollars of debt to suppliers, including those that provide merchandise, catering and ground hiring.
The Titans will return to the courtroom after Reed Constructions, which finished the NRL club's controversial Centre of Excellence project, filed two affidavits in the Federal Court this week.
The NRL cannot allow the club to fold because it needs them to satisfy their TV agreement of eight matches a week.
"The game's clear goal is to maintain a viable football club at the Titans," Gallop said. "The issues around the building are creating an alarming diversion from what would otherwise be a successful expansion of our game into an important area."
Yet the Titans continue to plough ahead.
Following the shock signing of Souths big man Dave Taylor, it is believed the Titans are in the box seat to secure Cronk on a three-year deal worth about $800,000 per season despite their financial turmoil.
The Storm had feared that South Sydney would snatch Cronk from under their noses because of the influence of Craig Bellamy's former understudy Michael Maguire.
But that has changed, so much so that there was a strong belief out of the Storm that the Titans had become "frontrunners" to sign their halfback, who has been in white-hot form.
Searle – who did not return calls on Thursday night – has a close relationship with Cronk's manager Chris Orr, based on the Gold Coast.
Working in the Titans' favour is Orr has the ability to secure numerous lucrative third-party agreements.
by Buford Balony