Arsene Wenger has revealed that he will consider his future as Arsenal manager at the end of the season if he feels he is no longer able to get the best out of his team.

Wenger, whose side continued their impressive run with a fifth successive Premier League win, 2-1 at Norwich on Saturday, has two years left on his contract at the Emirates.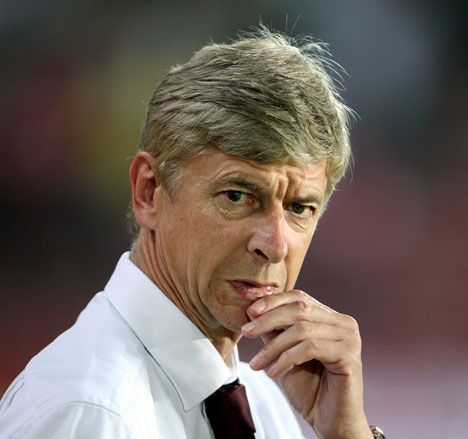 But he has now admitted that the summer departures to Barcelona and Manchester City of Cesc Fabregas and Samir Nasri, which ripped the heart out his young team, were 'painful' and had ruined his long-cherished project of building a title-winning team from players developed within the club.
And he conceded that he is prepared to question whether he is the man to take Arsenal forward. Wenger said: 'The only reason I would not respect my contract to the end would be if I feel I am not good enough to do the job any more. So I will wait until the end of the season and see then if I have managed to get the most out of the team.

'I am certainly not going to say that I will quit if we don't finish in the top four in the Premier League. But after 15 years at Arsenal I have to analyse the situation in an honest, completely objective way. But I think every manager would say the same thing.'

Wenger was responding to questions about a frank interview he had given to the French sports newspaper L'Equipe, in which he appeared to question his future at the club he has managed since 1996 with unprecedented success.

The 62-year-old Frenchman was reported to have said: 'I won't be there (at Arsenal) in 15 years. Will I be there next season? We will look at things at the end of this season. I still have two years on my contract after that.
'This is a new cycle. When we left Highbury I looked to the long term with a young team. It didn't work and we are building again. For me, we're now talking short term, it's obvious. But whether it's with me or someone else, it changes nothing. My successor needs foundations on which he can be successful.

'It's true that last season was the toughest I've had at Arsenal … What is hard is the feeling that something is finishing. For the first
time, I lost young players who were reaching maturity.

'That was tough for me. It's painful to lose key men you've invested a lot in.'
Commenting on the interview on Saturday, Wenger added: 'I am completely committed to Arsenal. It is the club of my life. I have a contract here and I will honour it. The story in L'Equipe is something I did about two weeks ago and it is nothing really.

'The journalist involved just asked me if there was any way that I would ever leave Arsenal and I said the only way I would ever leave is if I was not achieving what is expected of me. But I love the club and I think I have always shown my total commitment to it. I would expect to respect my Arsenal contract to the end even if some people are questioning what I do.'

Wenger's friends concede that he was shaken by the events of the summer when Nasri and Fabregas quit the club, despite the manager believing he could persuade at least one of them to stay.

It was this as well as an unwillingness to compromise Arsenal's negotiating positions which led Wenger to delay signing replacements, such as Santi Carzola, who moved to Malaga instead of Arsenal, and Juan Mata, who eventually joined Chelsea.
Arsenal's team morale was also clearly affected by the Fabregas and Nasri departures as the club slumped to an 8-2 defeat at Manchester United and lost 4-3 in a calamitous display at Blackburn.

But they have since recovered and moved to sixth place in the table. Wenger was full of praise on Saturday for his Dutch striker Robin van Persie, whose two goals against Norwich took his 2011 Premier League goals tally to an incredible 31.

Wenger said: 'His form at the moment is exceptional. He is certainly one of the best strikers in the world at present and he always makes the right decision in a fraction of a second. He is also very left-footed but he scored his second goal here with a wonderful chip with his right foot.

'He is 28 now and hopefully he will stay here for the rest of his career. I will certainly do my utmost to keep him.'
by Terence Johns