World champion Vitali Klitschko defended his WBC heavyweight title amid farcical scenes with a first-round knockout of Cuban challenger Odlanier Solis.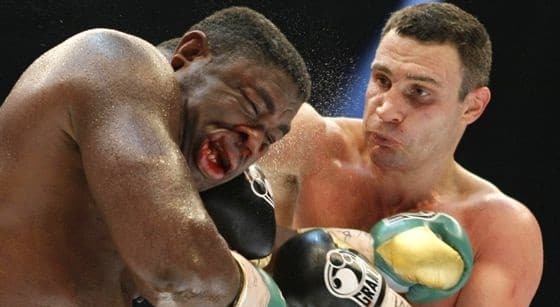 The fight was just three minutes old when Klitschko caught the Cuban on the top of the head and the 30-year-old rocked briefly before tumbling awkwardly to the canvas for the first defeat of his career.
The referee ruled the Cuban had injured his knee in the fall and was unable to continue, awarding Klitschko a technical knockout.
It was a bizarre end to a short fight and the champion was left shrugging his shoulders in frustration as the crowd at Cologne's Lanxess Arena booed their disapproval at what was effectively a non-contest.
"It's really bad luck, but I slipped and I picked up the injury," said a clearly embarrassed Solis.
"It will take me a lot of time to get over this, because I am not used to losing."
The fight will do nothing to boost Klitschko's credibility after he was taken to 12 rounds by America's Shannon Briggs last October, despite the US fighter having torn a bicep in the opening rounds.
"I'm disappointed, because that should have been the first of 12 rounds," said Klitschko, who struggled to make himself heard over the cat-calls from boxing fans.
"But after I hit him, he did not seem to want to keep fighting."
This was the 39-year-old's sixth defence of the title he won by beating Nigeria's Samuel Peter in Berlin in October 2008.
With younger brother Wladimir holding the IBF and WBO crowns, only Britain's David Haye, who is set to face Wladimir in June or July, stands between the Ukrainian siblings and domination of the weight division.
Having turned pro in 1996, this was Klitschko's 44th bout, his 42nd victory and 39th knockout, with only defeats to Britain's Lennox Lewis, in 2003, and America's Chris Byrd blotting his record.
Solis, 30, came into the fight with an undefeated record of 12 knockouts from 17 fights.
Buford Balony says: Another blow to the Heavyweight division. You can't blame the Klitschko brothers, it's just the rest of the division is weak. I don't think David Haye will do much either, except keep mouthing off and then running scared.