At this time of year our thoughts turn to sport.
After cricket my favourite sport is golf. It's time to predict the possible winners in the USA 's premier match and I can look no further than another icon the fabulous Tiger.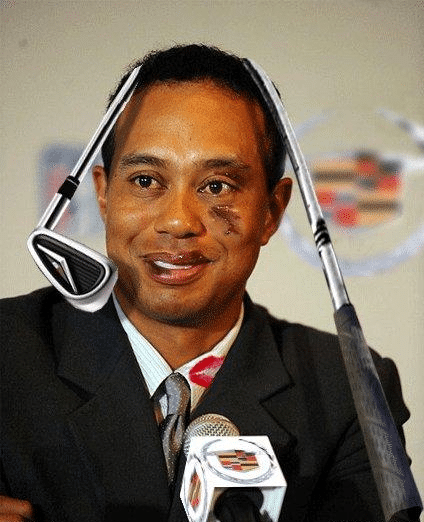 His deft movements to avoid his wife's hook with a three iron was matchless. Her follow up with the putter led to another bruising encounter.
Has he recovered his style?
Is he getting advice from Charlie Sheen?
I only know his game has once again become championship winning form.  From tee to green his stroking is exciting to watch.
Women all over the world love to see him bashing the ball. A Tiger in the long grass is a sight to see.
I remember a game he played in Lucknow…magnificent…not at all lucky.
The crowds cheered and threw kisses, well they made noises with their mouths that sounded like kisses. Some said he was a hooker, but not then, his style was direct and he praised his caddie for holding his nibblick (an Indian club).
He finished with a hole in one (of his socks, I think).
Winning the game after Ghengis Ghant lost his balls in the rough, probably flattened by a wandering elephant.
I knew then I was watching a future champion. I wonder, did he get his name after this match, because as you know India is famous for shooting tigers.
But back to the USA , I am putting all my rupees on the Tiger Woods to win the masters. Then it's once more back to India winning the gold medal in the Olympics in London, at cricket of course.
Happy tiger watching.
by Rahndi Ghit