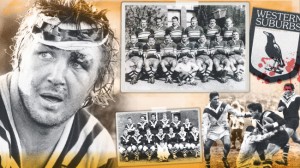 The future of Western Suburbs Magpies could come to an end much sooner than first thought, with the foundation club not guaranteed funds to play in the New South Wales Cup this year.
It's a blow to rugby league in the region and a boost for AFL's bid to get a foothold in enemy territory.
Greater Western Sydney will play their first match for premiership points on March 24 against local rivals Sydney Swans.
After it was revealed Wests Tigers would field just one team in the NSW Cup in 2013 – at the expense of the Magpies – Wests officials said they had not received the annual $300,000 from major backers Wests Ashfield required to field a Cup team this year.
New Magpies coach Trevor Schodel and officials said Wests Ashfield were not happy about a planned protest on February 5, aimed to raise awareness about the Maggies' Cup demise and the health of league in Campbelltown.
There was also a suggestion that Wests Ashfield would only fund the Cup team in 2012 if Magpies chairman Paul Dillion resigned.
Dillion offered a "no comment" when asked about the suggestion while sources at Wests Ashfield rejected those claims.
Either way, the Magpies are yet to receive any cash required to play in the Cup, which begins in two months.
"There are no 100 per cent guarantees we will get our funding this year," Schodel said.
"I'm really concerned for the players. Our first training session we had six players, now we've got 34 players training hard, and I'd be bitterly disappointed if Wests Ashfield listen to Wests Tigers and stopped our funding. It's now January and our first game is on March 3.
"It's devastating to see a traditional club treated this way. I'd hate to be the last person who coaches Wests."
Graeme Szynal, the man behind the Save Our Sides protest rally planned for next month, said all the Magpies and Campbelltown league fraternity wanted was a better deal from Wests Tigers, the team they helped form in 1999 by merging with Balmain.
"We still want our juniors to become Wests Tigers players, but they shouldn't have to play for Balmain or travel toConcordfor training to do so," Szynal said.
Wests Ashfield deputy chairman Russell Smith would not comment on funding.
by Buford Balony