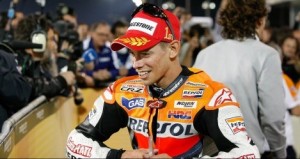 Casey Stoner delivered a familiar sight as he opened the MotoGP season with a dominant win under the floodlights in Qatar.
The 2007 world champion has now won the first race of the year on the Losail circuit in four of the last five years and claimed victory on his debut ride for the Repsol Honda team.
Defending champion Jorge Lorenzo was 3.440 seconds back in second place with Stoner's team-mate Dani Pedrosa rounding out the top three. Third factory Honda rider Andrea Dovizioso was fourth ahead of fellow Italian Marco Simoncelli.
Nine-time world champion Valentino Rossi marked his first race for Ducati with a seventh-placed finish while British debutant Cal Crutchlow was a solid 11th on his first race since moving up from the World Superbike Championship.
Stoner said: "After a great pre-season, we came into this race weekend and everything kept getting better and better for us. Dani came past and I decided to follow to see where he was strong and where I was weak.
"Then when I started to feel more confident with the bike and had more grip and better turning, we decided to push forwards and take advantage. The bike was fantastic, as it has been for all the sessions and I'm very proud to take my first victory in the first race. It is a great way to start the season."
Lorenzo made a great start from third to lead at the end of lap one but pole-sitter Stoner soon dived through on the inside to re-take the lead.
The sheer straight-line speed of the Honda saw Pedrosa streak past Lorenzo into second at the end of lap two and he was soon swarming all over the back of Stoner. Pedrosa made a bold move to take the lead into turn one at the start of lap five while Lorenzo kept Dovizioso in fourth place.
Dovizioso was then passed by Simoncelli as Stoner tucked in behind Pedrosa who was unable to build a lead.
As expected, Rossi was off the pace as he battled with Ben Spies before Stoner went ahead again at the halfway mark. This time the Australian was able to ease away with eight laps remaining while Lorenzo fought through into second.