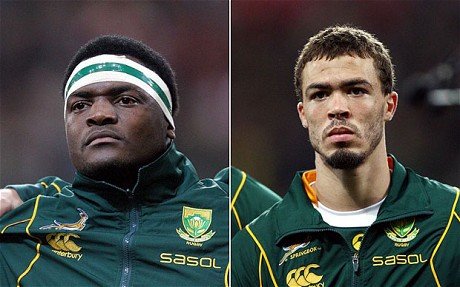 The South African Rugby Union (SARU) said Monday the 'B' samples of winger Bjorn Basson and hooker Chiliboy Ralepelle confirm they took a banned stimulant during a tour of Britain and Ireland.
Basson and Ralepelle failed random doping tests for methylhexaneamine after the Springboks beat Ireland 23-21 in Dublin last month at the start of a tour in which they also won Tests against Wales and England but lost to Scotland.
A union statement said a tribunal will probe the incident with a hearing date and the names of the members to be announced next year after investigations have been completed.
The Springboks insist they are innocent, saying they were "disappointed and shocked" by the positive results, and face a range of penalties from a warning to a two-year suspension.
SARU confirmed neither player will appeal against the testing procedure after being told the 'B' samples matched the original findings following random tests.
South Africa officials believe a nutritional supplement taken by all the players during the five-week tour may have caused the positive tests and its usage is likely to be reviewed during the investigation.
Basson, who is joining Super 14 champions the Bulls next season from Currie Cup minnows Griqualand West, started against Ireland and Wales after first-choice JP Pietersen was ruled out of the tour by injury.
Ralepelle is considered a potential future captain of the national team and has been understudy to current skipper and hooker John Smit for several years despite not being the number-one choice at the Bulls.
Buford Balony says: What a surprise, we all know South Africans are bad sports & cheats.