Eight years after humiliating England, the Socceroos have another date with the mother country in their sights…this time at Wembley.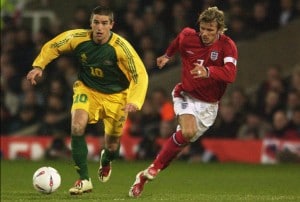 Negotiations are well advanced for a soccer friendly between England and Australia in October, a game that could be worth as much as $1 million for Football Federation Australia.
There is also the possibility of a partnership between the two bodies to establish a regular soccer "Test" match, eight years after the Frank Farina-coached side shocked Sven-Goran Eriksson and his England side 3-1 at Upton Park.
But the game can only take place if FFA can persuade Asian soccer chiefs to move a World Cup qualifier.
Nothing can be signed off until the draw for UEFA World Cup qualification takes place in Rio on July 30, filling in the blanks on the Socceroos' calendar for 2011 and 2012.
But sources close to the English FA say the organisation prefers to play Australia on October 11, confident of a money-spinning gate thanks to the huge number of Australians in the UK.
Australia won't know their World Cup qualifying opponents until the draw, but they do know the dates of the games – and the fact that the fixture slated for October 11 will be a home game.
FFA officials want Asian soccer bosses to agree to that game moving forward to October 7 or 8, allowing the Socceroos squad then to fly straight to London and face England on October 11.
Fabio Capello's side play Montenegro in Podgrica in their final qualifying game for Euro 2012 on October 7, and they  have no game scheduled for the following week.
The game would have huge benefits for FFA, with a match fee well above $500,000 expected depending on the exact size of the attendance.
The English FA would also have to pay Australia's expenses…thus recouping much of the cost of bringing Holger Osieck's squad home for the World Cup qualifier.
FFA officials who have long sought to create a formal partnership that would guarantee regular "Ashes" encounters.
by Buford Balony