Australia's fighting qualities have netball coach Lisa Alexander believing her charges can level the three-Test series against New Zealand after their thrilling one-goal loss in Perth on Sunday.
The Diamonds fought back from an 11-goal deficit in the third quarter to take the lead with four minutes left before the Silver Ferns responded to win the first match of a the three-Test home series 49-48.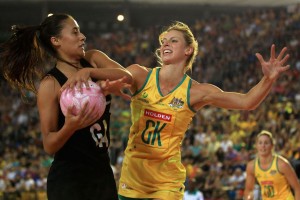 Maria Tutaia's goal in the final minute gave the Kiwis the lead before a turnover off the restart ensured the visitors took a 2-1 advantage in the best-of-five Constellation Cup series.
The result was a reversal of the final of this year's World Championships, with veteran goal shooter Irene van Dyk nailing 27 of her 29 shots on goal to lead New Zealand to victory in front of a sold out crowd at the Burswood Dome.
But Alexander said she was optimistic the Diamonds could turn the series around in the second Test in Adelaide on Wednesday.
"What I've seen in this group is the ability to fight back from an enormous gap in the score and to know that they've got that ability to do that is really pleasing," she said.
"We made a hell of a lot of turnovers today. We gave the ball to them far too much and you can't expect to be able to do that and not be punished.
"But I thought today we showed great fight in the end, so we're coming."
One negative for the Diamonds was a thigh injury which forced Julie Corletto off in the second quarter, which Alexander said was in the same spot as a knock she picked up in the series against England.
Wayward goal shooting played a big part in the Diamonds' downfall, as they made just 22 of their 35 first half attempts.
Caitlin Bassett helped to get Australia back into the match after replacing stand-in captain Catherine Cox at half-time by nailing 19 of her 21 shots, a performance Alexander said was "a joy to watch".
Silver Ferns skipper Laura Langman was pleased with her side's spirit but warned her side had plenty of improvement within them.
"We were so intense in that first half and we need to look at how we're going to be able to come off a break and stay that intense," she said.
Buford Balony says: When are they going to learn that Caitlin Bassett must start the game on the court instead of being a sub.