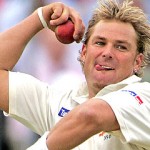 Shane Warne will headline a charity Twenty20 cricket match for earthquake-devastated Christchurch at Wellington's Basin Reserve.
"It's the least I can do," Warne posted on his Twitter account Warne888 on Friday, adding "let's raise lots of $$".
Former New Zealand captain Stephen Fleming has organised the March 13 match, which will also feature ex-Test batsman Martin Crowe.
Christchurch-born Fleming said he expected a full house and the Basin Reserve and the cricketing community was keen to help in the wake of the 6.3 magnitude quake that hit the city last week, leaving 240 people feared dead.
Fleming said he was visiting New Zealand's second largest city the day before the February 22 quake and counted himself lucky to have escaped the disaster.
"Watching with horror from afar the next day as places I grew up and played at and shopped at and enjoyed were being destroyed was hard to watch, not to mention all the people suffering," he said.
In Australia, a charity rugby union match is planned for March 10 at Brisbane's Ballymore, featuring ex-Wallabies such as Tim Horan and George Gregan against former All Blacks, including Christian Cullen and Frank Bunce.
Punters have reported bought more than 10,000 tickets in 24 hours.
by Buford Balony