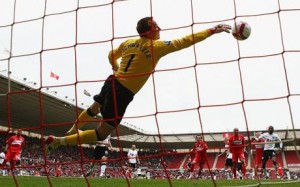 Fulham manager Mark Hughes says Socceroos goalkeeper Mark Schwarzer is set to sign a new contract with Fulham.
The 38-year-old, who joined the club from Middlesbrough in 2008, was heavily linked to Barclays Premier League rivals Arsenal during the last transfer window.
"He was obviously very flattered by the interest but we are delighted that he's decided to stay here and we can move forward now," Hughes said.
Schwarzer was reportedly keen on a move to the Gunners, who have had difficulties in settling on a first-choice keeper, as it would give him the chance to play in the Champions League.
Former Manchester United striker Hughes added: "It's something we've wanted to do for quite some time
"I think Mark was keeping his options open and he had every right to do that. He's very happy to sign."
The deal could see Schwarzer stay at Craven Cottage for a further two years, which would mean he would celebrate his 40th birthday as a Fulham player.
Buford Balony says: Don't do it Mark, Fulham manager Mark Hughes treated you like shit, so stuff him.