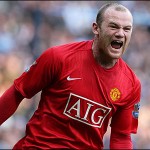 Listening to the vocal stylings of Susan Boyle, aka Subo, is undoubtedly a pastime for many people.
But perhaps the most surprising fan of the Britain's Got Talent star is Wayne Rooney, who admitted he loves enjoying her tunes while having a massage before taking to the pitch with Manchester United.
In an interview, Rooney said he often listens to Boyle among other easy listening favourites before a game.
Referring to musical legends such as Frank Sinatra and Perry Como, Rooney said 'I actually like them. Growing up in my nan's house, my grandad used to listen to Perry Como all the time.
'I went to watch Jersey Boys, the Four Seasons, Frankie Valli, it was the best show I've ever seen.
'My music varies. Susan Boyle, yes. Her voice is amazing, it relaxes me before a game. I get a massage while listening to it.
'Different players have different things to prepare. It's not always Susan Boyle. I just need something relaxing before I go out and warm up.'
And Rooney also revealed that the other players' music does very little to help him get in the right frame of mind before a game.
He added, 'Evra Patrice likes R&B for the dressing room, a bit of reggae. That's not really my thing.
'That's why I wear my own iPod. Some of its not too bad but some of it doesn't really get me ready for the game.'
In his most candid interview to date, Rooney also admitted he struggled when trying to make the decision of whether to stay at Manchester United or move to Manchester City.
As he tried to make a choice, over 40 United fans wearing balaclavas turned up at his house with placards threatening him if he chose to move to City.
Talking about the situation, Rooney, who has a one-year-old son Kai with wife Coleen, said, 'When I looked out, there were about 30 of them all with hoods up. I think they wanted me to invite them in.
'I can understand that they wanted answers. There was no harm done. With my wife and kid in the house it was a bit intimidating, but it got calmed down.
'I understand many of the fans will have been disappointed and felt let down. But it was such a big moment in my career. I had to get it right and I know I've made the right decision.'
by Terence Johns