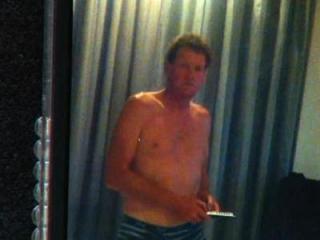 Disgraced player agent Ricky Nixon is believed to have fled Australia.
Collingwood president and Triple M breakfast presenter Eddie McGuire tweeted early on Tuesday morning about Ricky Nixon, who is at the centre of a scandal involving the St Kilda schoolgirl, flying the coop on Monday night.
McGuire tweeted that he had received a text from Nixon, 47, in the departure lounge.
Nixon's flight comes as an explosive video and audio recorded by the teenage girl threatens to ruin his career.
Police arrested the teenage schoolgirl on Monday and formally questioned her about the contents of the tapes and the nature of her relationship with Nixon.
The inquiries centre on allegations of illicit drug use and sex.
Nixon admits to "inappropriate dealings" with the schoolgirl, but denies the girl's allegations that they had sex and took drugs together.
The girl, who revealed her arrest online, was also questioned in relation to possible offences under the Surveillance Act and theft before she was released without charge.
Writing online afterwards, she suggested that she had refused to answer the detectives' questions.
"Why give me a DVD of my interview when I clearly didn't talk @ all? Complete waste of time. Hope vic police wasted RN's as well," the teen wrote.
The AFL Players' Association announced on Monday that it was also an investigating Nixon over the allegations.
St Kilda skipper Nick Riewoldt, one of Nixon's clients and one of the players at the centre of nude photo scandal, refused to publicly back Nixon.
The 17-year-old schoolgirl claims she and Nixon, 47, were in a cocaine-fuelled sexual relationship.
In a video, the girl says to the camera "This is proving that Ricky Nixon is here, just have a look at this", while a shower can be heard running in the background.
Rifling through the pockets of a pair of jeans on the floor, the girl produces a BlackBerry mobile phone displaying Ricky Nixon's image and name.
The time and date of the phone show as 2.15am on Saturday, February 12.
She takes out a wallet displaying what appears to be Ricky Nixon's Flying Start and Etihad Stadium pass and credit cards.
The girl scans to a table where there is a pile of white powder which appears to be cocaine with one line next to it.
There is a empty plastic bag on the bench.
After another conversation caught on tape, a man she claims was Ricky Nixon undresses to his underwear and climbs on the bed.
In one phone conversation she claims she recorded of Nixon in February, a man tries to convince her to support him publicly.
Nixon, who is not supposed to contact or see the girl, tried to coach her how to respond to a high-profile journalist writing a critical article about him and his handling of her, she says.
In the phone call, the man the girl claims is Nixon talks about journalist Caroline Wilson saying, "She's writing an article slamming St Kilda about how they've handled all this.
"She's also going to rip into me about the way I've treated you and you know, well, which is ridiculous.
"I'm going to ring her and say, not say anything, but say look, if you're going to write anything about me, how about you talk to… "
The girl says, "So you want me to stand up for you?"
Male voice, "Well, don't stand, I don't want you to go overboard, but just say look, Ricky's been helping me get myself back together a bit, and, I don't want to talk about it too much, just sort of say something like that. Could you do that or not?"
She replied, "Yeah, I sort of wanted to say that I hate you though, because I hate you like heaps though, so."
The man then turned on the charm, she said.
"Don't say that, you idiot. I'll make it up to you tonight baby, all right?
"So, if she rings you, don't say I've put you up to it or anything like that.
"The main thing they're going to focus on is that I had these photos of you and da de da de da de da. Even if you say Ricky sat down with me and he destroyed those photos and… "
She then tells him he has not deleted photos of her.
"How do you know I haven't?" the man says, to which she replies, "Because you showed me the other night."
He follows with a sleazy reply, "Yeah, well, I'll have another look in my phone tonight, when I'm on top of you … Oh sorry, don't vomit again."
After the conversation, a friend with her exclaims, "He's so ugly…you're dating the Elephant Man."
The journo worldbecame aware of the scandal when the girl contacted a newspaper on February 13, saying, "Hey AD, I might have a VERY good story for you…?"
At 1.56am on February 15, she texted: "Got a clear facial shot. See me tmrw?"
Then she texted, "He's sleeping in my bed right now…what time will u be up tmrw?? I think he's leaving my aprtmt at around 6am??"'
Nixon was filmed leaving Causeway 353 hotel, in the CBD, which St Kilda footy club was paying for, at about 7.15am.
The girl claims they have been involved for about a month, including a rendezvous at his holiday house in Point Lonsdale.
Bad blood between Nixon and the girl began before she released the scandalous Saints' photos that derailed the AFL club's pre-season.
Nixon took photos of the girl at his office in late 2010.
During this meeting, Nixon claims she began stripping after arriving in a police uniform and a mini-skirt.
Her version was very different.
In other texts between Nixon and the girl, they give each other pet names.
She had him listed as "Jarrad" and "Jarrad Cutie" in her phone and also had him dialled in as "Ricky F…Face Nixon" before their relationship began.
He referred to her as "Reject".
The vision, along with other videos and audio tapes released to the Herald Sun, could lead to criminal charges being laid against Nixon.
Material obtained from the girl, including an empty packet, were supplied to Victoria Police about midnight on Friday.
Buford Balony says: What a tool. If I were a young player I wouldn't go near this idiot, the AFL must cancel his licence.