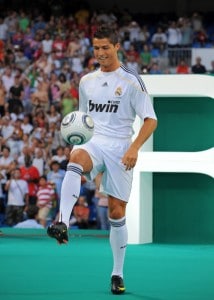 Real Madrid may be trailing their arch-rivals Barcelona in La Liga but financially they still have the edge on their old foes after topping the table of the world's 20 richest football clubs, compiled by accountants Deloitte.
Deloitte Football Money League
1. Real Madrid: $A596 million
2. Barcelona: $A541 million
3. Man Utd: $A474 million
4. Bayern Munich: $A434 million
5. Arsenal: $A372 million
6. Chelsea: $A347 million
7. AC Milan: $A320 million
8. Liverpool: $A305 million
9. Inter Milan $A305 million
10. Juventus: $A288 million
11. Manchester City: $A207 million
12. Tottenham Hotspur: $A198 million
13. Hamburg: $A198 million
14. Lyon: $A198 million
15. Marseille: $A191 million
16. Schalke: $A189 million
17. Atletico Madrid: $A169 million
18. Roma: $A166 million
19. Stuttgart: $A155 million
20. Aston Villa: $A148 million
Real finished top for the sixth straight year with Deloitte's table for the 2009/10 season saying the Spanish giants had revenues of $A596 million.
Barcelona remained second on $A541 million while Manchester United, one of seven English clubs in the top 20, stayed third.
All the 20 clubs represented were from the "big five" European leagues, with England contributing seven clubs, Germany four, Italy four, Spain three and France two.
Real remained top despite a disappointing season, coming second in La Liga again and being knocked out of the Champions League in the last 16 by Lyon.
"In the coming years, particularly as UEFA's financial fair play rules take effect, Real Madrid's revenue prowess should, in theory, translate into a competitive advantage on the pitch," said the report editor, Dan Jones.
Real's revenues were boosted by the staging of the 2010 Champions League final at their Santiago Bernabeu stadium.
UEFA's fair play rules are designed to force clubs taking part in European competitions to spend only what they earn rather than rely primarily on the patronage of wealthy owners such as Roman Abramovich (Chelsea) or Sheikh Mansour (Manchester City).
Buford Balony says: How many of these teams make a profit?