Qantas officials have apologised for rewarding two rugby union fans who promised to wear black face paint and afro wigs at the Tri Nations decider.
A Twitter competition asked Wallabies fans to tell how they would show their support for the team for the chance to win two exclusive tickets to the game against New Zealand at Suncorp Stadium on Saturday night.
The competition winners arrived at the game dressed as their favorite rugby player, Radike Samo, wearing Australia's famous green-and-gold jersey and with their arms, legs and faces painted black.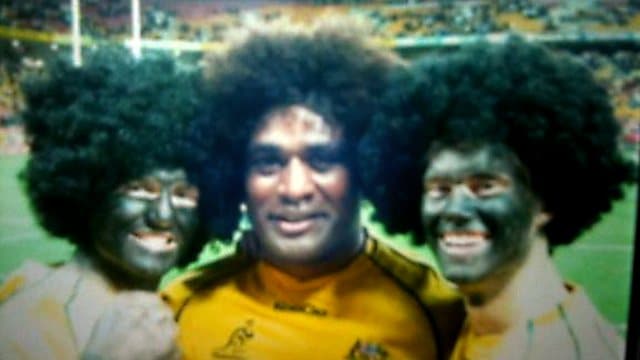 Qantas posted a photo of the duo on its official Twitter page.
But the "a show of support" sparked outrage among Twitter users, who labeled the "blacking up" stunt "appalling".
Qantas quickly removed the photo and apologised to followers on Sunday morning.
"We understand it caused offense to some people, which is why it was removed. We are really sorry if it has upset anyone," the tweet read.
A second tweet added, "We are apologising to those who found it offensive, obviously it was not our intention. Just meant to show their support of Radike."
Twitter users hit back at the airline's apology.
"Cut it out with the fauxpologies. Say you're sorry for posting the photo that did offend people (not if)," one tweet read.
"What that image represents to most people is appalling."
Qantas put the call out for competition entries on August 22, and saying the 140-character tweets would be judged on their "creativity … and reference to the Qantas Wallabies football team".
The winner, chosen by the airline, wrote, "We will dress as Radike Samo. Complete with Afro Wig, Aus rugby kit and face paint."
A Qantas spokeswoman said that airline officials contacted Samo, who posed with the fans on Saturday night, and said that he did not have a problem with the winners' costumes.
"These guys were actually paying me a tribute," Samo said after the Wallabies defeated New Zealand.
"It was a bit of fun, and I think it's great they regarded me as their favorite Wallaby.
"I didn't have an issue with it at all.
"I was glad to be in a photo with them, so I don't know why anyone is getting worked up – that sort of reaction is just silly."
Buford Balony says: Qantas you suck. If Samo doesn't care, why do you?