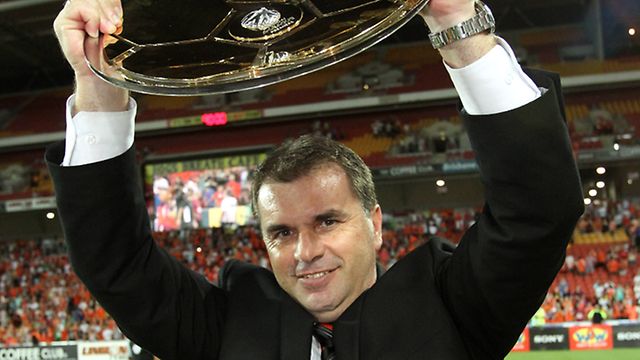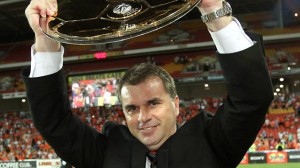 A-League coach of the year Ange Postecoglou has an escape clause in his Brisbane Roar contract that leaves him vulnerable to Melbourne Victory.
Despite assurances last week from Football Federation Australia, set to take control of the cash-strapped A-League champions, that Postecoglou would be staying in Brisbane, the star coach's future remains unclear.
He is keen to stay at the Roar to build on the club's phenomenal campaign, which culminated in Sunday's grand final success over Central Coast Mariners, but still cannot give an assurance he will be in Brisbane when the new season kicks off in October.
Despite being contracted to the Roar until March next year, a bargaining chip FFA had been relying on to keep Postecoglou in Brisbane, the former Young Socceroos mentor yesterday revealed he had an out if required.
"There are clauses in my contract," said Postecoglou, who was appointed by the Roar in October, 2009 as the replacement for sacked coach Frank Farina.
"When I took the job, if they (the Roar) wanted to get rid of me, they could pay me a certain amount.
"It's the same the other way."
The Victory, who sacked coach Ernie Merrick last Saturday, are set to make a lucrative offer, reportedly more than $400,000 a season, to Melbourne-raised Postecoglou.
FFA chief executive Ben Buckley last night said it was his "absolute priority" to sign Postecoglou to a long-term Roar deal.
"We would love to see Ange stay at the club for some years to come," Buckley said.
"He has, with the help of his staff, turned the team around and created a winning culture and a professionalism that now is the benchmark of the competition, and we're committed to finding a way to see Ange stay at the club for as long as possible.
"We'll work on that very quickly."
Postecoglou said a decision on his future had to be made immediately for his own sake and that of the Roar.
He said he would not re-sign off-contract attacking pair Jean Carlos Solorzano and Rocky Visconte until his own future had been decided.
"We've got recruiting to do, we've got player discussions to have . . . I don't think it would be right to commit people here and then things not go the same way I thought," he said.
"I want to make sure the Roar have got the same vision as I do."
by Buford Balony