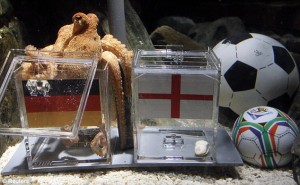 Paul the octopus, who shot to fame during the football World Cup last year for his flawless record in predicting the outcome of games, will get a shrine to mark three months since he died, his aquarium said Monday.
The tentacled tipster will on Thursday be honoured with a "Paul Corner" at his former home, containing his ashes and a "huge memorial," the centre in western Germany said.
"There will be a statue around 1.80 metres high of Paul, on top of a football, in the middle of which will be a see-through window with the golden urn containing Paul's ashes," spokeswoman Tanja Munzig told AFP.
Paul thrilled punters and cost bookmakers a small fortune during the World Cup in South Africa in June and July by defying the odds to tip correctly seven German matches and Spain's 1-0 triumph against the Netherlands in the final.
For the prediction, two boxes were lowered into the salty soothsayer's tank, each containing a mussel and the flag of the two opposing teams.
Watched by a myriad of reporters, Paul would head to one box, wrench open the lid and gobble the tasty morsel, with the box he plumped for being deemed the likely winner.
His astonishing ability made him a global media phenomenon. His later predictions were carried live on rolling news channels in Germany.
He even predicted Julia Gillard would be the next prime minister of Australia.
He died peacefully in his sleep aged nearly three in October, sparking hundreds of messages of condolence from his Facebook fan club, whose ranks have more than tripled since his death to 200,000.
The aquarium unveiled a replacement, French octopus named Paul II, on November 3.
The new cephalopod has not yet been tested on the field of play although speculation is rife that he could be wheeled out for the next European championship, in Ukraine and Poland in 2012.
by Buford Balony