AFL great and former Sydney Swans coach Paul Roos has turned up the heat on winless Gold Coast Suns as one critic labels the second-year club "irrelevant".
The Suns are yet to win a game in their first nine matches in 2012 and slumped to a disappointing defeat against Greater Western Sydney in round seven.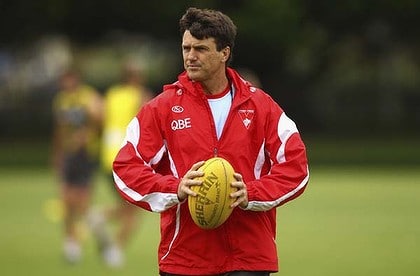 Last year, despite finishing with the wooden spoon, they managed three wins for the season. That mark looks difficult to match this time around.
Roos said that he hadn't seen any development from Guy McKenna's side across the first nine rounds.
"They don't look to be any better to what they were last year," Roos said.
"When you have 15-18 young players all together in the one side it's very difficult to improve.
"I think they're a long, long way off unless they make some significant changes to their list at the end of this year.
"They're still four or five years away at least from being a genuine finals team."
AFL 360 co-host Mark Robinson said Gold Coast were struggling to maintain the attention of footy fans.
"When you're zero wins they become irrelevant in the scheme of things this season," Robinson said.
"Guy McKenna says they're going to become a powerhouse one day and they will. But I am sick of hearing it. I don't care."
The Suns have backed McKenna to take the club to the finals by giving him a new two-year deal last week.
The coach said he has "full faith" in the players and staff at the Suns and is adamant they'll become an AFL "powerhouse".
The struggling club's skipper, Gary Ablett, admitted on Wednesday that life without a victory was taking its toll on the players.
"It is very tough for us," Ablett said.
"The boys are finding it very tough getting up from week to week.
"We've just got to make sure we keep the boys positive, keep the club positive, and that's going to help us keep moving forward."
Buford Balony says: Just another irrelevant club the AFL force on people. Gold Coast, GWS and Port Adelaide must be the stupidest ideas of any sporting code. If I was a grass-root fan I would be ringing up the AFL headquarters and asking why they are wasting hundreds of millions on these clubs that will never make a cent or become relevant. Look at Sydney and Brisbane, they have been around for years and still don't get hardly any media in these 2 large cities despite having success and larger salary caps. Everyone seems to think that the AFL is taking over but I ask taking over what? The biggest waste of money ever spent in Australian sport.