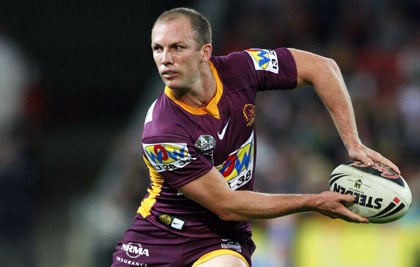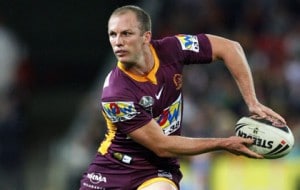 Darren Lockyer prepares to kick off his 17th season tonight in NRL All Stars clash at Skilled Park, the 33-year-old Immortal-in-waiting has candidly confronted his league mortality.
Lockyer believes that one more major injury would end his glittering playing career and rob him of a richly deserved chance to end his 333-match NRL career on his own terms.
Any major injury would also deny Lockyer the chance to surpass the record for the most first-grade games, which is held jointly by Steve Menzies and Terry Lamb (349 matches). It is a ghastly prospect every Brisbane fan prays will never eventuate as their wounded club continues to rebuild its empire after last year's fall from grace.
"If I was to have another serious injury then, yeah, I don't think I'd be back," Lockyer said.
"I've always said that if I did a knee, a nine-month injury…
"For example, if I was Brent Tate and past 30 and on to my second or third, that would probably be it.
"Brent Tate isn't 30, he's still young. Age slows down the healing process. You don't heal as quick as you once did."
In last year's inaugural All Stars clash, Lockyer corked his biceps in the opening exchange.
The injury scare rattled the bunker of his rebuilding club.
It highlighted how much Brisbane still rely on their pivot, a fact brutally reinforced when Lockyer's season-ending rib injury last August saw his squad crash from title fancies to their first finals absence since 1991.
But while the post-Lockyer era remains a genuine headache at Red Hill, the man himself is confident his glamour club is well placed to handle his ultimate exit from its playing ranks.
"I don't have any concerns, if I was to go, that with the fact Greg Inglis didn't come, they've got some money to go and buy a player if they think they need to fill any void," Lockyer said.
"With the youngsters the club has got, if they can keep that squad together, I think there's definitely success beyond me.
"They're at that age where another two to three years together, they'll be, I think, a pretty good outfit.
"The hard part is going to be keeping them together."
Lockyer is on track to complete his rewrite of the history books this year.
He can become the highest capped international, by surpassing Kiwi Test great Ruben Wiki, and exceed Allan Langer's record mark of 34 Origin games.
"I've been fortunate with injuries," Lockyer said.
"In the scheme of things, I've had the bad right knee with the reco and a few ongoing issues, but I've been a bit lucky."
by Buford Balony