Casey Stoner ended his championship year by overtaking Ben Spies down the final straight to win the season-ending Valencia MotoGP today.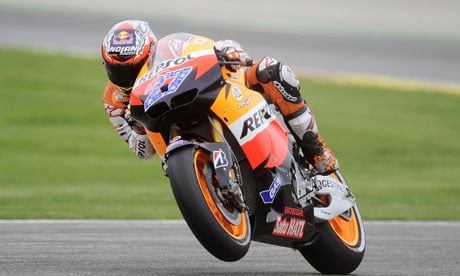 The world champion, who clinched the title on Oct. 16, finished in 48 minutes, 18.645 seconds. Spies was only 0.015 seconds behind in light rain on the 2.5-mile Comunitat Valenciana Circuit.
Stoner split from the start and looked to have the race in the bag, stretching his lead over ten seconds on the 13th of 30 laps . But as the drizzle turned to rain late in the race, and teams readied the rain motorcycles on pit lane, Repsol Honda's Andrea Dovizioso and Spies slashed away at Stoner's cushion.
Spies passed Dovi for second early on the 28th lap and took the lead when Stoner caught a false neutral and ran wide in the right hand turn six also on lap 28. For the final two laps the Texan controlled the pace, until the very end. Stoner got a much better drive out of the final turn 14 left-hander and drove past Spies to win his tenth race of the year by a scant.015 sec.
"The conditions have just been really difficult to sort of deal with and the race was no different," Stoner, the 2011 MotoGP World Champion, said. "We started the race – it was raining the whole race, just little bits and pieces. It would change what corner it was and how hard it was lap by lap, so you didn't really know how hard to go into each corner as you were approaching.
"But we built up a really good lead, really comfortable, and every time I felt there was a bit too much rain, I'd back off, wait for the rain to sort of subside, they'd catch me a bit and I'd be able to increase the lead again. And I felt pretty good out there; the bike, everything was working well. Then it got to the point where it just started raining heavier and heavier and I went into a couple corners, the rear come around on me and I just really wasn't too keen on pushing any harder than what I was. And I thought, at least when they catch up, and if somebody does come past, I'll keep going at what I'm comfortable with. When somebody comes past I'll be able to sort of see then where the limits are and if they're getting a bit slippery or not.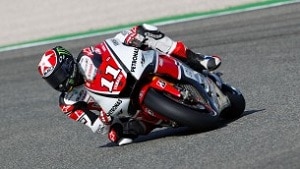 "Ben (Spies) came past after I made a small mistake and hit neutral. He was looking great, to be honest. He was riding the corners really nice smooth. I was able to catch him a little bit on the brakes and out of acceleration points in a couple of areas. Other than that, he was just riding the track really nice, really smooth and I didn't think I was going to get a chance to do anything and I wasn't really willing to take any risks. And I suppose the last half of the last lap I thought, 'This is it. This is the last lap of the year for us,' and I just decided to go for it and take some risks that I haven't taken all season. It came out very good for us.
"We were able to catch Ben going right into the last turn. Came out and got a fantastic drive. I don't think I think could've got any better run going into that last straight and managed just to pip him on the line. So sorry to Ben, but yeah we're very happy to end the season like this."
The victory kept intact Stoner's remarkable record of finishing on the podium in every race he finished. The lone blemish on an otherwise peerless season was getting knocked down and out of the Spanish Grand Prix in Jerez by Valentino Rossi (Ducati Marlboro).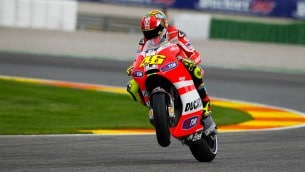 Rossi himself got knocked down and out today, along with teammate Nicky Hayden and Pramac Racing Ducati's Randy de Puniet. Going into the first turn of the race, Rizla Suzuki's Alvaro Bautista clipped the rear wheel of Dovizioso, hitting the ground, sliding to his right and cleaning out Rossi, de Puniet, and Hayden, the three falling like dominoes with Rossi surfing on the top of Bautista's Suzuki GSV-R800. None made the re-start. In a gesture of good sportsmanship, Bautista later went to the various pit boxes to apologize.
Stoner finished the season with 350 points to 260 for Jorge Lorenzo, the Yamaha rider who sat out the race while he continues to recover from the finger injury he suffered in Australia three weeks ago. Repsol Honda's Andrea Dovizioso clinched third in the championship by finishing a distant third, while teammate Dani Pedrosa finished fifth. In between came Monster Yamaha Tech 3's Cal Crutchlow with a career best fourth. His previous best was seventh in Catalunya. The season best finish gave Crutchlow rookie of the year honors over Karel Abraham, the Czech rider who fell out of fourth place on the final lap.
Stoner took off and looked to have the race in the bag until the very end, while Dovi and Pedrosa battled hard for second. Spies was there to pick up the pieces if one of them made a mistake, but neither did. So Spies took the initiative passing Dovi on the 26th lap in the right hand turn five. By then Pedrosa had faded badly and would later get passed by both Crutchlow and Abraham. Then Spies went after Stoner, setting up the final lap showdown. When it came down to the run to the flag, the Honda had more power and Stoner had his 34th and final win of the 800cc era.
"It was a weird race for us, because obviously the way the conditions were…it was very tricky," Spies said after his first podium finish since the Red Bull Indianapolis Grand Prix, and fourth podium of the year. "Once the race got underway I saw Dani and Dovi were battling it out. I knew they had a championship battle on the line, too. So I was watching and I kinda knew their tire combinations vs. mine and was just watching and seeing what was going to happen and waiting for somebody to make a move, then I was just gonna try to play off that and see what happened.
"Then it started to rain quite heavily and I made a couple passes and then all of a sudden Casey appeared in front of us and followed him for a little bit. And then, like he said, he made a mistake and (I) went by and once I got out there it was still starting to rain quite bad and had nobody in front of me, so it was hard to determine how much grip was on the track. And the last two laps I decided, I was like, this is first or second place; we gotta just get on the podium, but maybe we can win the thing. Let's just try to stay consistent.
"Like he said, he took a couple risks in the last two corners and caught us and I tried to get a run out of the last corner, but we lacked a little steam going into the line, but that's the way it goes.
"I'm happy to end the season like this with the month I've had, it's been horrible, actually." Spies suffered severe rib damage in a crash in Australia, his second, and he also crashed in Malaysia and again this weekend in Valencia. "This weekend has been horrible weather, but we ended it with a good result, but now I'm happy to start testing on Tuesday and Wednesday and start next season."
Dovi finished with 228 points to 219 for Pedrosa. Spies was fifth at 176.
Pedrosa faded badly getting passed by both Cardion AB Motoracing Ducati's Karel Abraham and Crutchlow. He gained one spot back when Abraham crashed on the final lap, handing Abraham rookie of the year honors. Still, he lost third in the championship to his outgoing teammate Dovizioso, who would join the Monster Yamaha Tech 3 team on Tuesday for the test.
"Yeah, it's been a difficult weekend and this track is really difficult for me, so to fight for the championship with Dani in this track was really difficult and I need intelligent strategy," he said after his first premier class podium at Valencia. "The condition was a little bit strange, so I tried to stay in front of him and just to stop him, because he's a little bit faster in this track, so I couldn't follow. So I tried to overtake every time and the strategy (was) working, so I'm so happy about that.
"And I want to say really thank you to the team, to Honda, because my team is really good and I'm really sorry to go away, but my future is in Yamaha now and I'm really happy about the third position. Was so important to me to find the third position in the last race in Spain in Valencia, was really important."
Yamaha test rider Katsuaki Nakasuga finished sixth riding in place of the injured Lorenzo. Nakasuga battled Monster Yamaha Tech 3's Josh Hayes for much of the race before pulling away. Hayes finished an impressive seventh in his first MotoGP race.
Then came Abraham followed by Pramac Racing Ducati's Loris Capirossi, the Italian who was ending his 22-year career with this race.
Toni Elias was tenth in his final race on the LCR Honda MotoGP RC212V. The final two finishers were Hector Barbera (Mapfre Aspar MotoGP) and Hiroshi Aoyama, the San Carlo Honda Gresini rider who was leaving MotoGP for the Ten Kate Honda World Superbike team.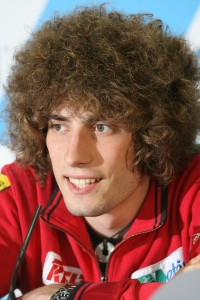 Valencia MotoGP Results:
1. Casey Stoner (Honda)
2. Ben Spies (Yamaha) .015
3. Andrea Dovizioso (Honda) 5.921
4. Cal Crutchlow (Yamaha) 8.718
5. Dani Pedrosa (Honda) 9.321
6. Katsuaki Nakasuga (Yamaha) 23.818
7. Josh Hayes (Yamaha) 33.118
8. Karel Abraham (Ducati) 37.952
9. Loris Capirossi (Ducati)
10. Toni Elias (Honda)
11. Hector Barbera (Ducati)
12. Hiroshi Aoyama (Honda)
Earlier in the day riders did a lap of honor and gathered on the track to pay tribute to Italian rider Marco Simoncelli, who died in an accident at the Malaysia GP two weeks ago.