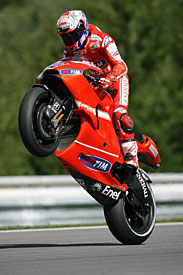 Casey Stoner believes that a last minute set-up call saved his race after the Australian former world champion finished third in the Czech MotoGP at Brno.
The Ducati rider finished a distant third behind runaway championship leader Jorge Lorenzo and Dani Pedrosa, but said that things could have been different had he not made a set-up change on the grid before the race.
"To be honest at the end of qualifying yesterday we felt that the setting wasn't too bad and we weren't too far away from it," he said. "But we really needed a warm-up this morning just to tweak a few things and make sure we were on the right track.
"Unfortunately the wet warm-up completely put us off-track. Going into the race and coming on to the grid I decided to make a small step in the rear just to take a little weight off the front and I'm lucky I did that, because at the beginning of the race we had way to much weight on the front, I was losing the front in a lot of corners.
"But as I saw from Andrea Dovizioso's crash and some of the others they had similar problems so…"
Stoner, who moves to the factory Honda squad in 2011, added that his focus remains on returning Ducati to the top step of the podium before he leaves at the end of the season.
"We did the best we could this weekend, started off slow for us, then we gradually picked ourselves back up on the pace and pretty much arrived where we seem to a lot lately," he said. "I still want to be back up front fighting, but we are just not at the level at the moment so me and the team are just going to keep working."