Collingwood coach Mick Malthouse accused several Magpies of not committing to the cause in a brutal post-script to last year's grand final loss.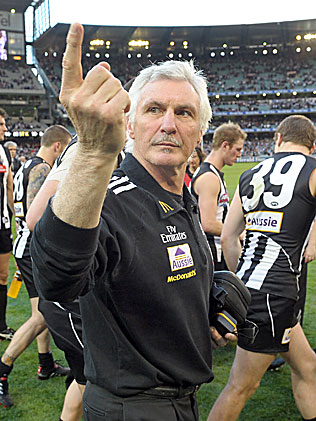 In the same post-match speech where Malthouse announced he would leave Collingwood, he said the lack of output from some players would stay with them for many years.
Malthouse praised the group for helping turn a club that was "16th, broke and shithouse" into a powerhouse, but did not spare some players for their efforts.
"I never even remotely thought I would be up here saying, 'bad luck'," he told his players in the MCG changerooms.
"Was it bad luck? Did people come out of the trench? I don't know. I know a few did. Maybe a couple didn't. Maybe a few didn't.
"As a player said to me this morning, nine years later he still regrets something from the 2002 loss.
"Will there be regrets? Of course there will. I am not about to tell you about it, you know it yourself. Only you will know if there was something missing, a short-cut taken.
"Those who will go on in life have to learn from some of this stuff. It takes you forwards or it takes you backwards. Don't kid yourselves, this will be a nightmare. It will stay with you for a long, long time."
Collingwood started well in the Grand Final but was over-run by a rampant Geelong.
A host of players struggled with injury including Ben Reid, Darren Jolly, Chris Dawes and Nick Maxwell, while Dane Swan was effectively tagged out of the game.
"There are little pieces out of the jigsaw missing and it was evident out there and they will be missing until you do something about it," Malthouse said.
"Maybe this speech is for next year, or for Bucks, but my heat is for all of you to succeed in life, not just football.
Many Collingwood players had assumed by the Grand Final Malthouse would not return, but he made it official in his speech.
"I don't want to make this about me, but I am not coming back. I want to leave it to Nathan," he said.
"I don't want to get in his hair. I am not deserting you but I don't think I can give you the 100 per cent that you guys need.
"So on behalf of my family, thank you very much."
by Buford Balony