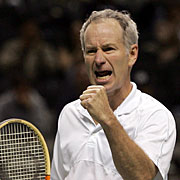 Tennis legend John McEnroe hailed Pat Rafter's appointment as Australian Davis Cup captain, but found it unbelievable Australia didn't have a single man ranked in the world's top 50.
Seven-time grand slam winner McEnroe is one of the major attractions of the eight-man Champions Down under tournament at Sydney Olympic Park.
The 51-year-old American beat another seven-times slam winner, Mats Wilander, and faces Australia's 1987 Wimbledon singles champion Pat Cash, in the final.
Against Wilander he won 7-6, 7-6, but only after a few outburst from the veteran. I must say, that I thought he was right on every call. McEnroe had a go at the Umpire, e few line judges and he even wasted a point in the game when he served, without bouncing the ball, straight at the line judge's head.
Laconic McEnroe, who captivated fans with his intoxicating tennis and volatile behaviour, produced plenty of witty one-liners and some interesting opinions at a press conference in Sydney.
He found it hard to comprehend that such a historically successful tennis nation like Australia had no one ranked in the men's top 50, with veteran Lleyton Hewitt at 56, the only local male in the top 100.
"When I grew up I idolised Laver and Harry Hopman was around and he was my inspirational leader and I heard all these war stories about all these incredible players," McEnroe told reporters.
"It's unbelievable to think there's not even one guy in the top 50 right now.
"I don't know what's going on."
McEnroe doubted Hewitt could add to his two grand slam singles titles.
"It will be interesting to see how much longer he wants to go on, I'm sure he's not the type of person that is happy being 56 in the world," he said.
McEnroe noted Australia was in "the minor leagues" of the Davis Cup after again missing out on qualifying for the World Group, and wished Rafter luck in his new job as Australian captain.
"I think Patrick Rafter is a fantastic appointment, absolutely first class. There's not a single guy on the tour that doesn't like this young man, he's a mate's mate as you say in Australia.
"I think he's going to do a great job."
McEnroe doubted Roger Federer would regain the No.1 ranking from Rafael Nadal, but believed the Swiss superstar could win a couple more majors.
"Certainly at Wimbledon he's going to be a threat for the next few years at least," McEnroe said."
"I don't think he's declined that much, but guys have to get better. I think some guys like Nadal have gotten better and he is younger and he's got youth on his side."
Cash believed Australia's leading female player, sixth-ranked Samantha Stosur, had the ability to win a major after reaching the French Open final this year.
"I do believe with the state of the game now on the women's tour, that she is one of the best and that she thinks she can grab a slam, I don't think there's anybody consistently better than her," Cash said.
"Obviously Serena at her best is too good for anybody, but she's not always playing, so I think Sam has got a great chance."