Socceroos goalkeeper Mark Schwarzer has been involved in a "nasty" incident in Fulham's Barclays Premier League fixture against Blackburn Rovers, with calls for the Australian to have been shown a red card after a head clash foul in the dying minutes of the game.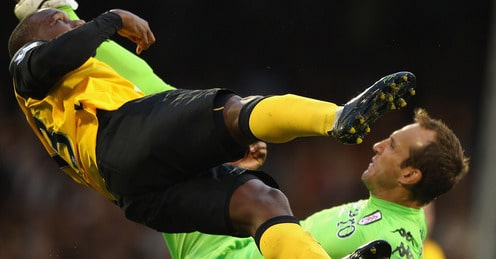 Rovers striker Junior Hoilett came out second best in the 90th-minute collision at Craven Cottage, taken from the pitch on a stretcher after his desperate attempt to give Blackburn three points.
Hoilett suffered concussion and received four stitches on the side of his head as a result of the collision.
Schwarzer was shown a yellow card for the foul, but Rovers manager Steve Kean was surprised the goalkeeper wasn't shown red.
"It was quite a nasty challenge," Kean said.
"I was expecting Webb to send him off.
"When I spoke to Howard Webb, he felt that even if Hoilett had got the first touch, (Fulham defender Stephen) Kelly was coming round. At the time, and at the pace it happened, I thought it would be a red card.
"Schwarzer thought it might result in a goal, so he went all out for it. Hoilett, too. It was just a good professional attempt from each to score or prevent a goal."
The 1-1 draw did neither club any favours, both sides yet to win in the league this season.
Rovers took the lead through a fine strike from Ruben Rochina in the first half, but Bobby Zamora equalised soon after to leave Blackburn rooted to the bottom of the table.
West Bromwich Albion had earlier secured their first league points of the season, an early goal from Peter Odemwingie enough to defeat Norwich City 1-0 at Carrow Road.
Odemwingie, making his first start of the season after an ankle injury, enjoyed an eventful return to action.
He opened the scoring in the third minute after confusion in the Norwich defence, but he also missed a second-half penalty.
Roy Hodgson's team held on to end a run of three successive defeats, while the Canaries are still waiting for their first victory after promotion from the Championship.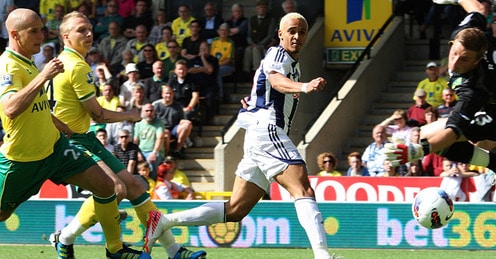 To complete a miserable day for Norwich, striker James Vaughan was taken to hospital after an elbow from Gabriel Tamas left him with a serious facial injury.
Vaughan was flattened by Tamas at a stoppage-time corner, an incident missed by referee Mark Halsey.
Norwich manager Paul Lambert confirmed that Tamas's stray elbow had left its mark on Vaughan's mouth.
"James has gone to see the plastic surgeon at the minute, and it is a bad one," Lambert said.
"It has gone straight through the lip and they can't just stitch it up, the specialist has got to look at it.
"He had got a really nasty gash in his upper lip, which will need a bit of work on it."
by Buford Balony