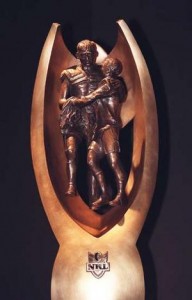 For a true national NRL, it would include teams in Perth and Adelaide, and would only be possible if a current club relocated, South Australian rugby league boss Ken Kennedy believes.
Expansion talk is in the air ahead of the NRL's new TV deal and Canterbury are on the ground in Adelaide this week to spread the gospel as part of the community carnival.
With Perth bidding to join the league in 2013, a successor to the ill-fated Adelaide Rams could complete an NRL presence in each of Australia's major cities.
But new SARL general manager Ken Kennedy says there will be no stand-alone bid from Adelaide when the NRL next considers expansion.
'Our look would probably be more in the line of a team relocating to be honest,' Kennedy told AAP on Tuesday.
'We need to grow the game a little bit more than what it has been.
'In saying that, it had a very good following when the Rams were here so who knows what the future holds.'
The Rams played for two seasons, in the 1997 Super League and then in the enlarged united competition in 1998 before folding.
Rugby league has long been accused of killing off its national ambitions with the demise of the Rams and Perth's Western Reds.
As well as Perth bidding again, Central Coast, Wellington, Ipswich, Central Queensland and a second Brisbane group are all keen to join the competition.
The league, though, has said there may be no expansion at all and bidders will need to show they can grow the game's pie.
The Bulldogs will again play their home game against Melbourne in the City of Churches in July after first making the move there last year.
A crowd of 10,350 turned up as the Dogs won 20-18.
Cash-strapped Cronulla played a game in Adelaide in 2009 before pulling the plug on planned matches in 2010-11.
The Sharks also considered splitting home games between Toyota Park and Gosford before that plan fell through when the NRL ruled it did not qualify for part of the $8 million which has been on the table for any side willing to move to the Central Coast.
NRL boss David Gallop has said a similar financial package could be considered for a club willing to relocate elsewhere.
'Certainly Adelaide's got to be attractive, the fact that it's only an hour-and-a-half to fly over from Sydney,' Kennedy said.
'It's a really good state and it's a state that could handle an NRL side here.'
The 15,000-seat Hindmarsh Stadium and one million potential television viewers are also pluses, but a mere 1500 juniors aren't.
'Corporate support for the game needs to grow a fair bit and probably there are still some people hurting from the Rams, when the plug was pulled,' Kennedy said.
'I would expect in time as those TV rights get a little bit better, we will possibly have a team.
'I think the TV rights are going to go a long way towards what happens in these affiliated states.'
by Buford Balony