An Olympic rower threatened to abandon ship and swim to shore during the fierce argument that prompted the shock sacking of Pippa Savage.
The volatile Savage has returned to Melbourne after being sacked from the women's quad scull to compete at the London Olympics.The four were training in Lucerne before last week's World Cup regatta when a heated argument broke out.
A voice was heard coming from the boat threatening to jump out and swim to shore.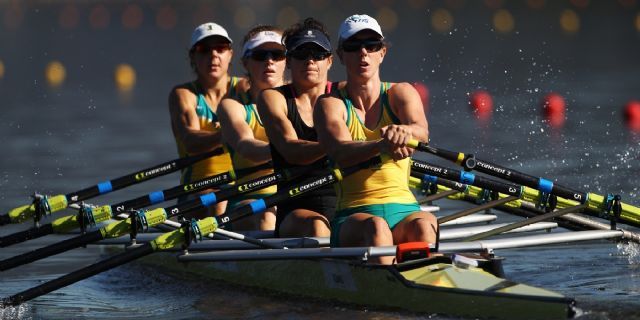 The confrontation was reported to rowing chiefs, who deployed a psychologist. But the challenge was greater than raising the Titanic.
The drama has echoes of clashes in the countdown to Beijing, when Savage and Kerry Hore, who were supposed to share the same boat in London, had a falling-out.
They were training in Adelaide for the double sculls world title when they had a dispute and Savage left the camp without notice.
They were scheduled to be back in the boat for London with Dana Faletic and Pauline Frasca. Although Savage has appealed against her dismissal her chances of success appear minimal.
Rowing officials yesterday acknowledged such events reflected the difficulty of making independently minded characters compatible with a large group.
Savage's size and strength are prized in any crew she is in but she makes waves.
She has been replaced by Amy Clay.
If someone has a marketing blood cell in them, then let's get Pippa and Kerry in a boxing match…I'd even stoop so low to get them mud-wrestling.
There's a buck out there for somebody to earn.
by Buford Balony