Kiwi rugby league captain Benji Marshall and Wallabies five-eighth Quade Cooper…entirely unpredictable, both capable of turning a game in a split second and both the key to their respective country's hopes of victory on Sunday.
Kangaroos coach Sheens reckons Marshall is guaranteed to become a target for rugby union at the end of his current Wests Tigers contract.
And he points to the success of Cooper in the 15-a-side code as part of his reasoning.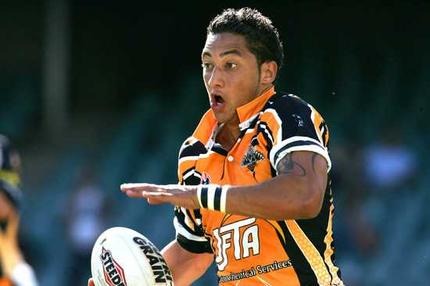 Imagine the All Blacks with Marshallas their starting five-eighth? It would surely have New Zealand breathing a lot easier today in the absence of injured superstar Dan Carter.
"I've got no doubt when Benji's current contract is nearing the end, rugby will come back and try to have another shot at him," Sheens said.
"You look at the Wallabies. Who's the one player when the game is on the line and they need to win that they turn to and he can create something out of nothing when really there shouldn't be much to create? Cooper.
"Those types of players, you only see them every so often.
"What they can do with the football is a very rare thing when it comes to close games that are on the line and you need to produce the big play."
Sheens pointed to another league star involved in Sunday's Four Nations warm-up Test in Newcastle, Warriors captain Simon Mannering, as evidence rugby union would still occasionally attempt to poach league talent.
Mannering was a schoolboy union star beforeNew Zealand signed him to play league.
In the leadup to the NRL grand final it was revealed that four Super 15 clubs had expressed an interest in bringing him back to rugby union.
"They're not as big a threat as they were a couple of years ago, but if it's the right type of player then I'm sure they'd have no hesitation in chasing them," Sheens said.
"The Warriors captain is an example of that.
"I'm sure if it suits them at the time, they'll have another go at Benji."
by Buford Balony