AFL loudmouth Jason Akermanis says he was "stupid" and insensitive for attacking the late Jim Stynes as a "nasty man in his day" who was being treated like a "demigod".
In an explosive radio interview with Mix 92.7 FM on Queensland's Sunshine Coast last week, the former three-time premiership-winning player said the public outpouring of sympathy and grief at the passing of Stynes, who lost his battle with cancer on Tuesday, was "overkill".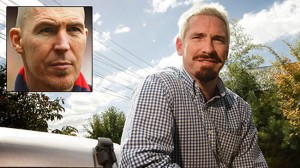 There was a dramatic fallout from Akermanis's comments throughout the afternoon, culminating when he was sacked by Mix 92.7 FM on Thursday afternoon.
Stynes has been lauded as an inspirational player on and off the field, recognised for his youth work with the Reach Foundation.
He will be honoured at a state funeral in Melbourne on Tuesday, before his ashes are returned to Ireland.
But Akermanis is unlikely to be among mourners after telling breakfast hosts Mark Darin and Caroline Hutchinson that Stynes "was a nasty man in his day".
"He had a nice turn of phrase and he made sure you knew how he felt," Akermanis said.
"What amazes me is yes, he was a legend of the game and did a great job and wonderful things with kids, but you know there are a bunch of people who have done just as much who don't get any recognition.
"I just think it's a bit out of kilter.
"He got a state funeral – do all football players get a state funeral?
"There's something about it all that just made me feel uncomfortable. Jim's good but is he that good?"
Later on Thursday, Akermanis told Melbourne radio station SEN that his comments came out wrong, apologising for the offence he had caused.
"I'm really sorry. I hope people can understand," he said.
"My point was he's as human as all of us. I didn't want to forget all the good things he did.
"I just didn't say it very well. There's no excuse. I said it. I stand by my stupidity."
Akermanis then released a prepared statement apologising for his remarks.
"Firstly, I want to apologise wholeheartedly for my inappropriate words this morning, regarding Jim Stynes. I am truly sorry for the ill feeling I have caused.
"In reality, my feelings are quite the opposite and I just didn't express my thoughts, feelings and words very well.
"I deeply apologise to the Stynes family, the public and everyone involved with Jim throughout his life. I would like to take this opportunity to clarify my true thoughts, and I hope that you will forgive my stupidity."
Despite the contrition, Akermanis was sacked by the radio station later in the day.
"Mix 92.7 believes the comments were in poor taste and a disservice to the incredible legacy of Jim Stynes and the outpouring of grief Australia wide," a statement from the station said.
The controversial AFL star will appear in the upcoming series of Celebrity Apprentice Australia to air next month.
A Brownlow medallist, Akermanis is known for his outrageous opinions and shock of peroxide hair.
He hit the headlines for clashing with his Brisbane Lions coach Leigh Matthews, with the club and senior playing group voting unanimously in 2006 to axe him from their roster.
In 2010, he was attacked for a newspaper column in which he urged gay players to stay in the closet.
by Buford Balony