Australian Jarmila Gajdosova launched an extraordinary attack on her growing list of critics after falling to a straight-sets loss to Maria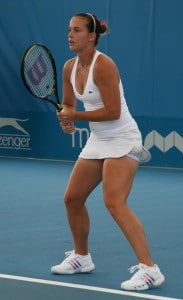 Kirilenko in the first round of the Australian Open.
The volatile 24-year-old was no match for the Kirilenko, the Russian glamour girl taking advantage of a swag of unforced errors from Gajdosova to prevail 6-4 6-2.
In her post-match press conference Gajdosova took the opportunity to blast her critics, saying no matter how she plays she always expects to be condemned in the media.
"I don't know what to tell you honestly," she said.
"You put yourself in my shoes and that's how you're going to feel. I don't need to explain how frustrating it is; of course it's frustrating.
"Whenever I play everybody questions my game – everyone keeps talking about my enforced errors."
The Australian, who is still trying to rebuild he life after the breakdown of her marriage to fellow tennis player Sam Groth, said she would never achieve the necessary consistency to take her game forward.
"Everybody keeps talking about how hot and cold I am, so how would you feel going on the court knowing first thing they're going to say is, 'you made 40 unforced errors and that's why you lost'?" she said.
"My game is not based on making balls, plain and simple.
"I made 40 unforced errors, made 35 winners, made seven aces – I'm even either way.
"I lost four and two and with the chances to win the match, so it doesn't matter what I'm going to do either way – everybody is going to concentrate on the unforced errors.
"It's not easy knowing that no matter what I do when I step out on the court I'm never going to do the right thing for anybody – so why to bother?
"You try, you try and everybody is going to say whatever they want anyway."
Buford Balony says: If you can actually win a game they will lay off, but we don't forget your pathetic performance at the Hopman cup.