Two hundred and fifty games later, Wests Tigers forward Todd Payten will be back where, and with who, it all began.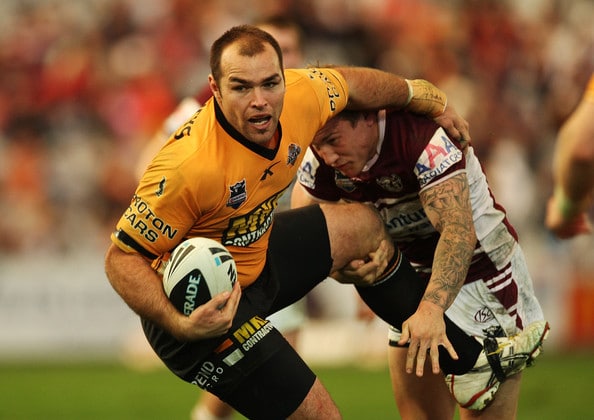 The Canberra Raiders, coach Tim Sheens and Campbelltown Stadium were all part of Todd Payten's debut 15 years ago, and they'll feature again in his milestone match on Saturday night.
Payten debuted for the Raiders, then coached by current Tigers boss Sheens, at Campbelltown against Wests in round 18, 1996.
Tigers trainer Andrew Leeds was the Magpies' fullback and current Raiders mentor David Furner kicked four goals.
"It's funny how things work out like that," Payten told reporters on Wednesday.
"Someone pointed out to me the other day that it's my 16th year so that made me feel a little bit old.
"The coach is constantly reminding me that I'm not a 21-year-old any more so I get it a bit at training, but that's the way it goes."
He was just 17 when he got the call to get himself to Raiders training.
"I was at school so I was pretty happy to be getting out of school just to go to training," he said.
He came off the bench in a match Tom Raudonikis' Magpies won 24-16 over a Raiders side captained by Laurie Daley.
Since then Payten and Sheens have been something of a double act, two survivors in rugby league's unforgiving world.
The 110kg Payten linked with Sheens in the coach's second year at the helm of the Tigers, 2004.
"He doesn't kind of pigeon-hole me," the 32-year-old said.
"He stresses to me that I must do my job, which is go forward first, but with him being an old ball-playing front-rower he doesn't really say not to do anything.
"I think he's mellowed out a little bit with his old age.
"He loves the game and works very hard at what he does and the guys really respect that."
Payten is contracted until the end of 2012 and says that will probably do him.
He hopes off-contract Sheens, who South Sydney have denied they are interested in poaching, will be there to see him off.
"I can't imagine anyone else being there," he said.
"I know he's passionate about the club and he's tight with the fellas so I'd find it hard seeing him being anywhere else.
"In saying that he's professional enough to realise it's a business and we'll just have to wait and see."
Game 250 would have a touch of deja vu about it if it weren't for the bumps taken by an NRL forward.
"It's harder for everyone but a winger (to get to 250)," he said.
"For anyone to get to 250 games, you're no mug."
by Buford Balony