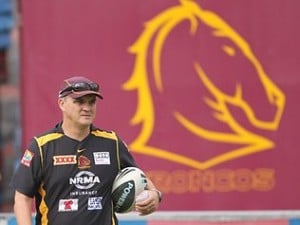 Anthony Griffin officially took over as Brisbane Broncos' third coach in four years on Tuesday morning when he prepared the team for Saturday's pre-season trial with Melbourne Storm at Redcliffe.
With questions still being asked and fingers pointed in the wake of Ivan Henjak's shock sacking last week, just 18 days out from the start of the NRL season, his successor stepped into his rookie role under the pressure that ultimately cost Ivan Henjak his job.
The Brisbane players were called together before training and briefed about commenting on Henjak's sacking, given their unfavourable end of season review of his performance played a major role in the club's decision to wield the axe.
Henjak's decision in September 2010 not to allow Darren Lockyer to make a comeback from a rib injury in Brisbane's must-win round-26 clash against Canberra could have been one of the catalysts in his demise.
Henjak also took the fall in some quarters for the club's failure to sign Greg Inglis, although the former Melbourne Storm star has to take blame after giving Brisbane his word and then walking out the door.
The Broncos have been copping heavy criticism on various internet websites for the timing of their coaching announcement.
They broke the news at a hastily-called press conference at 5pm (EST) just before most major TV stations were due to present their nightly bulletins.
Brisbane bid team director Craig Davison said he found it "ironic" the Broncos chose to drop their bombshell on the same day as his consortium's official campaign launch for a second team in the city.
"We were really pleased with our press conference (on Monday) but obviously the message will be diluted somewhat now," said Davison.
by Buford Balony