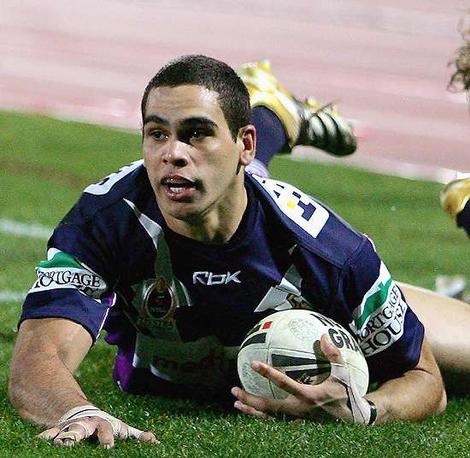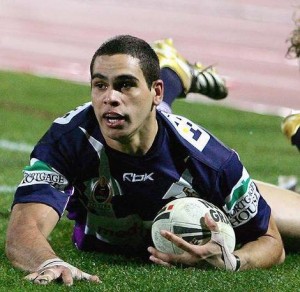 Greg Inglis's desired $1.8 million move to South Sydney remains in jeopardy after the NRL issued a formal "please explain" memo to the Rabbitohs over the third-party deals underpinning their proposed deal.
The latest development leaves the Rabbitohs continuing to face the sobering reality their 2011 salary cap forecasts will be blown – despite club statements arguing they won't need to shed any players to keep their superstar recruit.
After receiving Souths' contract draft last Friday, NRL auditors are already alarmed and has sought finer details on the elaborate external deals absent from Souths' initial short-form version tabled on November 15.
The NRL has asked to see additional paperwork to justify the series of deals Souths intend to use to prop up Inglis's base salary of only $190,000.
"We've asked for more information on the third-party deals," NRL boss David Gallop confirmed.
In another development, it is understood the Rabbitohs and Melbourne Storm have reached a tentative agreement on the residual amount of Inglis's disputed legal fees, totalling $113,000.
While Melbourne are still yet to release Inglis, the messy saga has now moved to NRL discretionary rulings on all portions of his deal with Souths.
All third-party deals secured on the exclusive proviso Inglis join Souths will be ordered under their 2011 salary cap.
The additional information ordered from the club will now prove pivotal to Inglis's fate.
Meanwhile, Gallop refused to be drawn on whether Inglis's camp was attempting to hold the game to ransom.
That follows a public warning by manager Allan Gainey that a failure by the NRL to rubber-stamp the deal could lead to Inglis walking away from the code.
Gainey claimed such a scenario would prove "the greatest disgrace ever", while also stating "the NRL will exercise their discretion reasonably . . . and in the best interests of the game".
But the NRL, left frustrated by Gainey's inability to bring a resolution to the saga in more than four months, has thrown the ball back into Souths' court with Monday's latest edict.
Schubert's final judgments on the salary cap distribution of Inglis's contract could yet unravel the Bunnies' current cap forecasts, demanding the exit of contracted players.
The botched handling of the legal matter has come at a considerable cost to the player, dragging the 2009 court hearing back into the public limelight.
There is speculation Gainey has lost guidance of his star client, after unsuccessfully attempting to persuade Inglis to honour his written agreement with the Broncos.