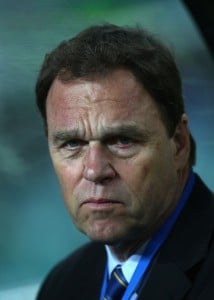 Socceroos coach Holger Osieck has named his side for the friendly match against Germany in Monchengladbach on March 29.
Promising goalkeeper Mitch Langerak has earned his first Socceroos call-up for the friendly international against Germany following a breakout performance for Borussia Dortmund.
The 22-year-old former Melbourne Victory keeper made a stunning Bundesliga debut in his side's 3-1 win over powerhouse Bayern Munich in February.
Osieck's squad features 15 players who were part of the Asian Cup squad with big guns Tim Cahill, Harry Kewell, Lucas Neill all included.
Unfazed by coaching against his home country, Osieck wanted to imbue the same sense of fearlessness among his players.
"It is not related to the German game, whatever game I play with my team we want to get a result, we are not going there to just play and maybe have a good time against our respective opponent," Osieck said on Tuesday.
"I know how difficult it is to win in Germany but we are not going into the game and saying 'oh we hope it goes well and I don't know'.
"We should be confident. The attitude is important."
Osieck has maintained a firm silence on events in Durban, given that they happened under the watch of his predecessor Pim Verbeek, but hoped his players had put the night out of their minds.
"I am not a man who really looks back, and whatever happened before my time I don't know and don't want to comment," he said.
"It was not my business and still is not. I have to focus on the game coming up and I hope all the boys on the list will show up in a good, healthy mental and physical state and that we are ready to perform.
"I'm not afraid to play the strong teams because I think it is more beneficial to play these teams than play weaker teams and just hope to win.
"Results always matter and in this game the result matters as well, but I think you have to ride on both horses – development and success – and I want to really get this message across to the players."
As an assistant coach in Germany's victorious 1990 World Cup campaign, Osieck is well aware his countrymen will not be carrying an attitude of relaxation into the match.
"I'm pretty sure they take it very seriously because they see the public in Germany is very demanding," he said.
"I remember when I was with the national team, and we had some not so good performances, the media were merciless, 'how can they do it, it is the national team, you represent your country and you didn't perform, that's unacceptable'.
"So there is no friendly aspect from them."
As for the possibility of a German squad populated with fringe players than were seen last year, Osieck said:
"When you get called into a German squad, you must have some quality – so they wouldn't have any Mickey Mouse players, I can assure you."
The German coach also kept faith with A-League stars Matt McKay and Robbie Kruse, who impressed in Qatar.
Middlesbrough striker Scott McDonald was overlooked, as was Japan-based striker Josh Kennedy despite him returning to fitness after missing the Asian Cup.
The match will be preceded by a three-day camp in Duisburg from March 22-25, with Langerak also named in a 22-man training squad that will get a change to impress Osieck and his coaching staff.
Socceroos squad: Tim Cahill, David Carney, Brett Emerton, Brett Holman, Mile Jedinak, Harry Kewell, Neil Kilkenny, Robbie Kruse, Mitch Langerak, Jon McKain, Matt McKay, Lucas Neill, Sasa Ognenovski, Nikita Rukavytsya, Mark Schwarzer, Carl Valeri, Luke Wilkshire.
Training camp squad: Shane Cansdell-Sherriff (Shrewsbury Town), Mitch Langerak (Borussia Dortmund), Adrian Madaschi (Portogruara), Adam Sarota (Fc Utrecht), James Troisi (Kayserispor), Michael Zullo (Fc Utrecht), Dean Bouzanis (Liverpool FC), Apostolos Giannou (Kavala), Chris Herd (Aston Villa), James Holland (Sparta Rotterdam), Shane Lowry (Sheffield United), Ryan McGowan (Partick Thistle), Aaron Mooy (St Mirren), Kearyn Baccus (Le Mans), Ante Drazina (Hertha Berlin), Corey Gamiero (Fulham), Bradden Inman (Newcastle United), Josip Konyit (Dinamo Zagreb), George Lambadaridis (Club Brugge), Mathew Leckie (Borussia Monchengladbach), Massimo Luongo (Tottenham Hotspur), Brent Mcgrath (Brondby)
by Buford Balony