On 22 July 2005 Yelena Isinbaeva became the first woman to clear the historic 5.00 metre (16.4 feet) barrier in pole vault.
At the age of 27 Isinbaeva has been a nine-time major champion (Olympic, World outdoor and indoor champion and European outdoor and indoor champion).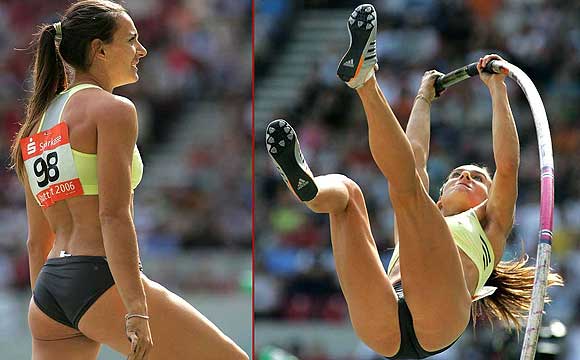 Isinbaeva's current world records are 5.06 m outdoors, a record Isinbaeva set in Zurich on August 28, 2009, and 5.00 m indoors, a record set at the Donetsk indoor meeting on 15 February 2009. The former was Isinbaeva's twenty-seventh world record.
She then set another World Record later that yeasr in Zurich in August 2009, and 5.01 m indoors, a record set in February 2012.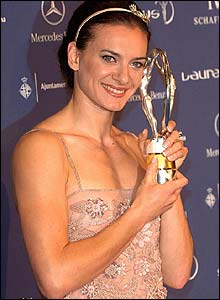 Isinbayeva was named Female Athlete of the Year by the IAAF in 2004, 2005 and 2008, and World Sportswoman of the Year by Laureus in 2007 and 2009. She was given the Prince of Asturias Award for Sports in 2009.
Isinbayeva has been a major champion on nine occasions (Olympic, World outdoor and indoor champion and European outdoor and indoor champion). She was also the jackpot winner of the IAAF Golden League series in 2007 and 2009. After poor performances at world championships in 2009 and 2010, she took a year-long break from the sport.
Her father, Gadzhi Gadzhiyevich Isinbayev, is a plumber and a member of a small (130,000-people strong) ethnic group of Tabasaran who mostly live in Dagestan. Her mother, a shop assistant, is Russian. Isinbayeva also has a sister named Inna. Isinbayeva came from humble beginnings and remembers that her parents had to make many financial sacrifices in her early career.
She has both a Bachelor's and Master's Degree after graduating from the Volgograd State Academy of Physical Culture. Currently she is continuing her post-graduate studies there and also studying at the Donetsk National Technical University.
In the Russian club competitions she represents the railroad military team; she is formally an officer in the Russian army, and on 4 August 2005 she was given military rank of senior lieutenant before being promoted to captain in August 2008.
She features in Toshiba ads promoting their entire product line in Russia. She also appears in a Lady's Speed Stick advertisement in Russia.
On 2 December 2010 she gave a speech before the FIFA delegates in Zürich. Later on that occasion it was announced that Russia will host the 2018 FIFA World Cup.
Yelena Isinbayeva is now a member of the 'Champions for Peace' club, a group of 54 famous elite athletes committed to serving peace in the world through sport, created by Peace and Sport, a Monaco-based international organization.
WHAT YELENA ISINBAEVA HAS ACHIEVED SO FAR
Year
Competition
Venue
Position
Notes
1998
World Youth Games
Moscow, Russia
1st
1999
World Youth Championships
Bydgoszcz, Poland
1st
4.10 m (WYR)
2000
World Junior Championships
Santiago, Chile
1st
4.20 m (WJR)
2001
European Junior Championships
Grosseto, Italy
1st
4.40 m (CR)
2002
European Championships
Munich, Germany
2nd
4.55 m
2003
World Indoor Championships
Birmingham, United Kingdom
2nd
4.60 m
World Championships
Paris, France
3rd
4.65 m
European U23 Championships
Bydgoszcz, Poland
1st
4.65 m (CR)
2004
World Indoor Championships
Budapest, Hungary
1st
4.86 m (WR)
Summer Olympics
Athens, Greece
1st
4.91 m (WR)
IAAF World Athletics Final
Monte Carlo, Monaco
1st
2005
European Indoor Championships
Madrid, Spain
1st
4.90 m (i WR)
World Championships
Helsinki, Finland
1st
5.01 m (WR)
IAAF World Athletics Final
Monte Carlo, Monaco
1st
2006
World Indoor Championships
Moscow, Russia
1st
4.80 m
European Championships
Göteborg, Sweden
1st
4.80 m (CR)
IAAF World Athletics Final
Stuttgart, Germany
1st
4.75 m
World Cup
Athens, Greece
1st
4.60 m (CR)
2007
World Championships
Osaka, Japan
1st
4.80 m
IAAF Golden League
6/6 Wins
1st
Jackpot Winner
IAAF World Athletics Final
Stuttgart, Germany
1st
4.87 m (CR)
2008
World Indoor Championships
Valencia, Spain
1st
4.75 m
Summer Olympics
Beijing, People's Republic of China
1st
5.05 m (WR)
2009
World Championships
Berlin, Germany
final
NM
IAAF Golden League
6/6 Wins
1st
Jackpot winner
World Athletics Final
Thessaloniki, Greece
1st
4.80 m
2010
World Indoor Championships
Doha, Qatar
4th
4.60 m
2011
World Championships
Daegu, South Korea
6th
4.65 m
2012
World Indoor Championships
Istanbul, Turkey
1st
4.80 m