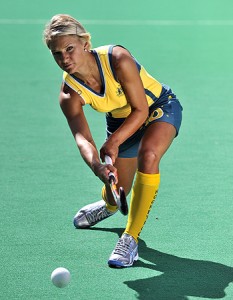 The Hockeyroos must defeat Germany to keep alive their women's hockey World Cup hopes in Rosario after beating New Zealand 4-1 in their penultimate Pool A match.
Australia needing at least a draw against New Zealand to remain in contention for a semi-finals berth, conceded a goal after five minutes before equalising through Kobie McGurk from a penalty corner after 10 minutes.
The Hockeyroos were outplayed for much of the first half, but they gradually gained the ascendancy after the break to add two goals from Ashleigh Nelson and another from Shelly Liddelow.
Netherlands are already assured a semi-finals spot from Pool A, leaving Australia and Germany to fight for second place in the group when they meet in their final-round match on Wednesday.
A draw will see Germany advance as they have a one-goal-better goal difference.
"We knew that it could come down to this game to make the final," Hockeyroos captain Madonna Blyth said.
"The fact that a draw won't help us due to the goal difference means that we
will have to be a bit more attacking, but our goal was to make it to the finals so this is another step in doing that."
Hockeyroos coach Frank Murray was pleased with the way his team made the most of their second-half opportunities against New Zealand.
"I think both teams definitely made plenty of opportunities, and fortunately we were the team that was able to convert in the second half," he said.
"The first half was very open with end-to-end stuff, and it probably took its toll on a few players and certainly by the end there were some very tired players."
The Netherlands qualified for the semi-finals with a 2-1 win over Germany, while India took their first points with a 2-0 win over Japan.
Buford Balony says: Are the Hockeyroos Australias hottest team? If you can tell me which team is hotter than them please let me know.