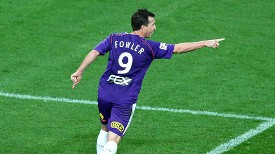 Perth Glory continued their unbeaten start to the A-League season with a 2-1 victory over Wellington Phoenix on Sunday.
Mile Sterjovski's fifth-minute strike and Robbie Fowler's goal on the hour was enough to secure Perth the points, although the home side endured some nervy moments in the final 20 minutes as Wellington launched a fierce comeback.
Defender Ben Sigmund's header in the 72nd minute gave the Phoenix hope, and Wellington would have been on equal terms in the 82nd minute if not for an excellent save from Glory goalkeeper Tando Velaphi, who did enough to block Chris Greenacre's close-range effort.
The Glory's third win of the season lifts them to equal on points and goal difference with Adelaide United, both teams sharing top spot after five rounds.
Wellington remain in eighth spot with just a win and a draw to show from four games.
It took just five minutes for Sterjovski to open the scoring and it came via a beautiful long ball from Fowler.
Todd Howarth latched onto Fowler's pin-point pass and steamed into the box before squaring the ball to Sterjovski, who converted the simplest of tap-ins.
Perth thought they had doubled their lead four minutes later but Scott Neville was ruled off-side after jabbing through a wayward Naum Sekulovski shot that had deflected off a number of bodies.
Wellington slowly worked their way into the contest and had a great chance to equalise when Velaphi punched Daniel's dangerous cross straight into the lap of Paul Ifill.
The Phoenix striker powered a shot on goal but Glory defender Sekulovski was on hand to clear off the line.
Perth should have doubled the lead just a minute before half-time when the Glory created a two-on-one situation in the box.
But Sterjovski's square ball to Fowler was too far behind the Liverpool legend, who couldn't control the wayward pass with an open goal beckoning.
The Glory looked home when Fowler headed home a beautiful lob from Sterjovski.
But the Phoenix stormed back into the contest, Sigmund heading a goal of his own from Paul Ifill's corner after Velaphi rushed off his line but failed to punch the ball away.
Phoenix goalkeeper Mark Paston pulled off some important saves to keep Wellington in the contest.
But it wasn't enough, with Perth holding their nerve to see out the win.
New Phoenix signing Nick Ward entered the fray at half-time but couldn't inspire his new team-mates to grab a share of the spoils.
Perth coach Dave Mitchell was pleased with how his team held firm in the dying minutes after watching the Glory give up a stoppage-time equaliser to North Queensland in round one.
"You bite your fingernails when you're thinking 'not again (to concede a late equaliser) after building a commanding lead of 2-0'," Mitchell said.
"But we've held on, which is an important factor for us.
"Credit to the boys … Tando's made an important save late in the game."
Phoenix defender Andrew Durante was lucky to not give up a penalty for his clumsy tackle on Fowler in the 59th minute.
But Wellington were the ones feeling aggrieved 20 minutes later when their cries of handball against Glory midfielder Steven McGarry in the box went unheard.
"I didn't see it but the boys up front said they thought it was a pretty clear handball," Durante said of the handball shout.
"I haven't seen any replays or anything.
"But we can't come away and let goals go in early like that and chase the game. It's hard enough being away and to cop one early is difficult.
"We fought to the end and were a bit unlucky in the end not to pinch a 2-2 draw."
Sterjovski was inspirational in his first game back from an ankle injury, scoring a goal and setting one up for Fowler.
The former Socceroo, who has scored three goals this season, played out the match despite rolling his suspect ankle in the first half.
"He was carrying an injury in the second half and we just said 'look, we need you to stay on' because there was a few other players suffering that probably had to be changed," Mitchell said.
"There was a bit of grit and determination from him to stay on."
A-League
(Updated Sep 07)
P
W
D
L
F
A
Diff
Pts
1
Adelaide
5
3
2
0
10
6
4
11
2
Perth
5
3
2
0
10
6
4
11
3
Brisban
4
2
2
0
2
0
2
8
4
Central Coast
5
2
2
1
5
4
1
8
5
North Qld
5
1
2
2
9
10
-1
5
6
Heart
5
1
2
2
6
7
-1
5
7
Victory
5
1
2
2
6
9
-3
5
8
Wellington
4
1
1
2
6
6
0
4
9
Newcastle
4
0
3
1
1
2
-1
3
10
Gold Coast
3
0
2
1
3
4
-1
2
11
Sydney
5
0
2
3
6
10
-4
2