Former England soccer boss Sven Goran Eriksson has been linked to yet another big-money deal – in Iran.
The Swede, 63, is eyeing a move to struggling Persepolis FC, based in the strict Islamic Republic's capital, Tehran.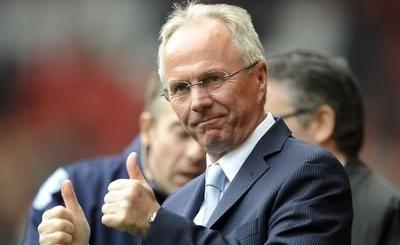 The club's leaders said Monday that they were in talks to lure the soccer journeyman – who has managed a host of clubs and national teams – into a deal worth around $1.57 million.
Soccer sources said that Eriksson is considering a trip to Dubai to meet Mohammad Ruyanian, the new general manager of Persepolis.
Ruyanian said: "We are going to sign a big coach. We have negotiated with Sven Goran Eriksson."
High-living Eriksson faces a drastic lifestyle change if he moves to Iran, run by ranting Mahmoud Ahmadinejad. Alcohol is banned, and glamorous women like his ex-girlfriend, Nancy dell'Olio, could be lashed for failing to wear a veil in public.
Sven earned up to $8 million a year while failing to deliver a trophy during five years with England.
His career has taken him to six countries — including two Scandinavian clubs, Benfica of Portugal, plus Roma, Fiorentina, Lazio and Sampdoria of Italy. But in England, he disappointed at Manchester City and Notts County and was fired
by Leicester City last month.
by Buford Balony