Mark Webber has been handed a three place grid penalty for the Bahrain Grand Prix after his collision with Jean-Eric Vergne's Toro Rosso in Shanghai.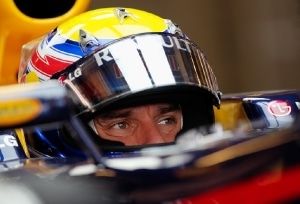 The Australian tagged the Frenchman into a spin while trying to take 12th position on Lap 16 of 56.
The contact damaged Webber's front-wing, forcing the Australian into a pitstop that would lead directly to his downfall – a left-rear wheel falling off the RB9 on Webber's outlap.
While Vergne suggested post-race that Webber should have waited until the following straight to make the move, Webber was left to wonder why the Toro Rosso driver hadn't given more room.
"I was coming from a reasonable distance back but he knew I was there," said Webber.
"He was really, really wide and looking like he opened the corner and was giving me the line.
"But we got to the apex and he took it. It's disappointing. He was entitled to do that, but if he'd just gone around the outside we would've both survived."
Vergne went on to take 12th in the final result, complaining that the incident with Webber damaged the floor of his car.