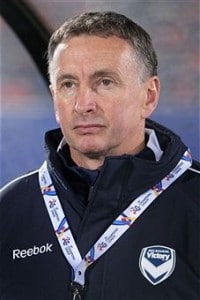 Veteran Melbourne Victory striker Archie Thompson has backed the club's decision to part ways with Ernie Merrick, claiming things were "stale" under the foundation coach.
Thompson's revealing comments came in an exclusive session on Monday less than 48 hours after the Victory announced Merrick's six-year tenure was over.
Merrick and Thompson were part of the Victory's maiden season and enjoyed two premiership-championship doubles and a third grand final appearance together.
But it was time for a change, according to Thompson.
"From a personal point of view I thought it was getting a little stale, and maybe we needed someone fresh with new ideas to shake it up a bit," Thompson said.
"I wish Ernie all best in whatever he chooses to do, because he had a huge impact on my career.
"It was obviously disappointing because from my point of view, and for Kevin and few of the other inaugural players, we've played under Ernie for so long, so it's disappointing that he left way he did."
Thompson hinted Merrick had lost touch with the way the modern game is being played.
"We had huge success with Ernie, but the game is evolving and maybe it was time for change," Thompson said.
"We've been used to the same thing and it's brought us success for six years, but something fresh to create a bit of a buzz around the team."
Thompson said he would back teammate Kevin Muscat if the controversial former captain was ready to push for the top job at Melbourne.
"I think he'd be a great coach. He has the qualities, because his leadership on the pitch is incredible," Thompson said of Muscat, who will retire at the end of the Asian Champions League campaign.
"I'd love to play under him. I've loved playing under him as captain, but to play under him as a coach would be amazing.
"He'd definitely want to get the best out of you and if you didn't give it to him, you'd get 12 studs down the back of your leg."
Thompson said interim coach Mehmet Durakovic had tinkered with Victory's style ahead of their second ACL clash of the campaign, against Korean outfit Jeju United at Etihad Stadium on Tuesday night.
"Mem (interim coach Mehmet Durakovic) has changed it up and reinvigorated a lot of players who were just going through the motions.
"Obviously Ernie left the club and Mem has come in and only been able to work with us for the last two days, but the boys have gotten through it pretty well and I think we'll do a good job.
"It's a game that we must win, so we'll go out there and do our best."