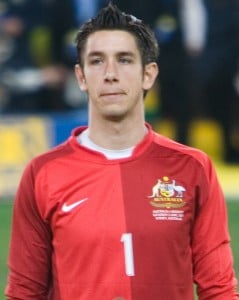 Liverpool have completed the signing of Australian goalkeeper Brad Jones from Middlesbrough for 2.3 million British pounds.
The Australian has inked a three-year deal with the club after agreeing to personal terms and passing a medical at Anfield. He becomes Liverpool's seventh signing since the end of last season.
Manager Roy Hodgson has been eager to bolster his goalkeeping reserves and provide competition for Spanish custodian Pepe Reina, whose fumble against Arsenal gifted the Gunners a point when the two sides met at Anfield on Sunday.
Jones, 28, is a product of the Middlesbrough youth system and has also spent time on loan at Blackpool and Sheffield Wednesday.
He was selected in the Australian squad for the 2010 World Cup but withdrew from the tournament after his young son, Luca, was diagnosed with leukemia.
Jones said that while leaving the Australian team in South Africa before the World Cup finals started was bad, the next few days were even worse.
'To walk into the hospital and see him wired up was bad. but seeing him go through the treatment and get so upset with it was worse,' Jones told Perth's Sunday Times.
'At first I didn't know what was going on. I was just thinking about going and seeing him and thinking that maybe I'll come back.'
'But when I spoke to Luca's Mum and a few of the docs and then when I saw him I didn't want to leave.'
'The World Cup was a massive event but there was too much uncertainty with Luca,' he said.
Buford Balony says: All we need now is for Fulham to stop being selfish & let Mark Schwarzer go to Arsenal so he can finally play Champions league football like he deserves & then we'll have 2 goalkeepers playing for 2 of the biggest & most famous teams in world sport. Do you agree?